Operation Christmas Child and Your Church
Operation Christmas Child is a hands-on way for Canadian churches to bless struggling children in the developing world by filling shoeboxes with toys, hygiene items, and school supplies. We collect the boxes and distribute them in the Name of Jesus Christ to children living in desperate situations, then invite them to attend The Greatest Journey—our follow-up discipleship program taught by local churches.
Explore the links and resources below to learn how you and your church can get involved.
Project Leader Resources
Project Leaders facilitate the packing of Operation Christmas Child shoebox gifts for a church or group. That includes you if you're ordering materials, equipping people with resources, fundraising, sharing about the project, or engaging in any other related activities. You may already be a Project Leader and don't know it!
If you are a Project Leader or would like to become one, we want to equip you with additional resources to help make shoebox packing fun and easy.
---
Media Resources
Download media kits, press releases, b-roll and photos.
---
Will your church reach out when the need is greatest?
How your church can participate
Whether you are meeting online, in-person, or both, there are plenty of ways to safely pack shoeboxes:
1. Pack online at PackaBox.ca Encourage your church to pack shoeboxes online at PackaBox.ca. With a few clicks, you can choose gifts and upload letters and photos. We'll pack, ship and hand out each box for a donation of just $40. You can also create a goal page for your church to use to track their shoebox goal.
2. Drive-thru at your church Set up a contactless drive-thru system at your church where people can pick up shoebox materials and drop off filled shoeboxes. Order shoeboxes here.
3. Host an online packing party Use an online video conferencing site to 'gather' church members together. Everyone can pack their boxes at the same time, in their own homes, but still share all the excitement.
4. Get creative while self-isolating Invite congregants to do their shoebox shopping online if they're housebound. Friends from church might be willing to shop on their behalf. Or they can make handmade crafts to include, like knitted hats.
5. Invite community participation As an evangelism opportunity, create simple invitations to participate in Operation Christmas Child and have your congregation give them to friends and neighbors. You can also share these shoebox instructions.
6. Pray As you pack shoeboxes, please pray for Operation Christmas Child.
National Collection Week is November 13-19, 2023
Find a convenient drop-off location for your church's shoeboxes.
"We're seeing salvation come not just to one or two, but we're seeing salvation come to [entire] families through Operation Christmas Child, which is really awesome."
Pastor Andy Loos,
Guam Bible Fellowship, Guam
"OCC Is one of the best tools that I have seen... effectively evangelizing and discipling Christian leaders… we are growing the kingdom of God!"
Pastor David Vandervelde
Ebenezer Reformed Church, Stoney Creek, Ontario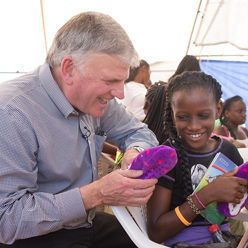 "I want every child to know there is a God who loves them."
Franklin Graham,
President, Samaritan's Purse
You are visiting the Samaritan's Purse website for Operation Christmas Child Canada.
Click below if you would rather visit the site of one of our Samaritan's Purse affiliate offices:
Operation Christmas Child is a project of Samaritan's Purse.

Operation Christmas Child is a project of Samaritan's Purse.
© Copyright 2023 Samaritan's Purse Canada. All rights reserved.
Samaritan's Purse Canada
20 Hopewell Way NE
Calgary, Alberta, T3J 5H5
1-800-663-6500
Canada Revenue Agency registration #: BN 11913 8527 RR0001
STAY IN THE KNOW!
Join our email subscriber list and get exclusive updates about how God is working through Samaritan's Purse, thanks to supporters like you.
Be the first to read and see our stories from the field. Lives are being changed every day! Learn how you can pray and contribute to what we're doing. Hear about volunteer opportunities, mission trips and other ways you can get involved. Sign up here:
Don't worry, we hate spam as much as you do. We will never sell or share your email address.