Resources & Ideas Hub
Explore the links below for ideas of how you or your group can pack shoeboxes and touch the lives of children and families around the world, bringing hope through the Good News of Jesus Christ in the form of a simple gift.
Shoebox Labels
Shipped To You
Available For Download
Group Ideas
Other Tools
Plastic Shoeboxes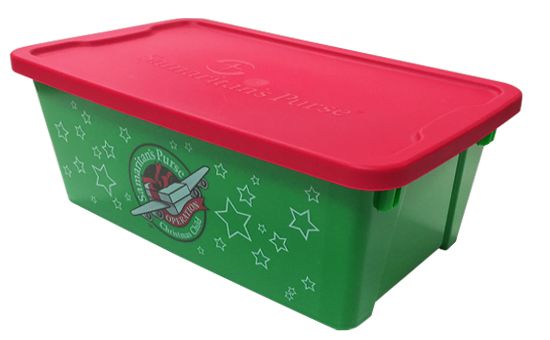 Did you know that you can now order plastic Operation Christmas Child shoeboxes? Our new plastic shoeboxes are made of durable, high-quality materials and are not only keepsakes for the children who receive them, but are a practical household items useful for years to come. For Canadians wishing to purchase and pack Operation Christmas Child plastic shoeboxes, they can be ordered via Christian Book Distributors (a US-based retail organization).

Note: Plastic shoeboxes purchased from this retailer are in US funds.

ORDER FROM CHRISTIAN BOOK DISTRIBUTORS


Prefer the original cardboard shoeboxes? You can order cardboard shoeboxes here.
Connect with us on social media
Connect with us on social media for the latest news, ideas, and tips related to Operation Christmas Child.
You are visiting the Samaritan's Purse website for Operation Christmas Child Canada.
Click below if you would rather visit the site of one of our Samaritan's Purse affiliate offices:
Operation Christmas Child is a project of Samaritan's Purse.

Operation Christmas Child is a project of Samaritan's Purse.
© Copyright 2023 Samaritan's Purse Canada. All rights reserved.
Samaritan's Purse Canada
20 Hopewell Way NE
Calgary, Alberta, T3J 5H5
1-800-663-6500
Canada Revenue Agency registration #: BN 11913 8527 RR0001
STAY IN THE KNOW!
Join our email subscriber list and get exclusive updates about how God is working through Samaritan's Purse, thanks to supporters like you.
Be the first to read and see our stories from the field. Lives are being changed every day! Learn how you can pray and contribute to what we're doing. Hear about volunteer opportunities, mission trips and other ways you can get involved. Sign up here:
Don't worry, we hate spam as much as you do. We will never sell or share your email address.