Host a Packing Party
"

Shoebox gifts are like snowflakes—no two are alike!

"

—Franklin Graham,
President, Samaritan's Purse
As you prepare to host a packing party for your church or group, please remember to make each and every shoebox gift unique. This simple aspect will delight the heart of the child who receives it. We want every shoebox to communicate the magnitude of God's love for that boy or girl. Please pack quality items that will reinforce the amazing grace and goodness the Lord has shown us in the Gospel. Reassure children of His care by including a personalized note and photo, and above all, pray for each boy or girl individually—no matter how many boxes you pack. The resources below will get you started.
Last year, many people chose to create a goal page to encourage others in their church or group to pack shoeboxes online, too! Many of these shoeboxes are delivered to hard-to-reach areas to share the Good News in a culturally sensitive way.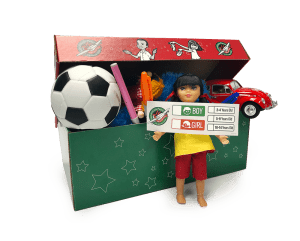 Pray

This is the most important part!

From the very beginning of your preparations, be sure to pray for the children who will receive your shoebox gifts. Ask God to prepare their hearts to receive His love and to specifically guide you as you shop and pack to put just what each child needs in their shoebox. Then before you send them off, pray over them again asking the Lord Jesus Christ to draw each recipient to Himself.
Set a Goal

How many shoeboxes do you plan to pack?

Be sure to choose a number that leaves room for God to work, and don't forget to consider the $10 per shoebox suggested donation at this stage. It's best to only aim for as many shoeboxes as you can cover with the suggested donation.
Get Ready

Emphasize quality

Gather Different Items

What does quality mean? Fill shoeboxes with items that will last. Think about the kids in your life—pack items you feel they would enjoy. Remember that each box represents the free gift of God's love so be sure to send gifts that will bring a smile.

Make the Heart Connection

Help participants understand why they are packing. Each shoebox gift represents an opportunity for a boy or girl to encounter Jesus Christ and share Him with their family and community.

Know When to Stop

Avoid packing poor quality boxes with leftovers. The remaining items can be saved for next year or given to others in your church to help them start filling their shoeboxes.

Check for Quality

Create a station at your party where someone discreetly looks through each box to ensure they are full, unique, and complete with a "wow" item to give the child a glimpse of God's incredible love. In addition, you may also consider having a teen or adult assist children under 8 years old in assembling their shoebox gifts.

Don't Forget the $10 Donation

A suggested donation of $10 per shoebox gift is crucial to provide for shoebox gift collection, shipping, and distribution to over 100 countries. Learn why and download our list of ideas for obtaining the $10 donation.

Customize Your Packing Party

No packing party looks the same, so be creative! To see what others have done, join our Project Leader Facebook Group.
Resources
Promote

Now it's time to get the word out!

Think through who you will invite and how. Possibilities include making an announcement at your church or group, displaying it on a bulletin board, sending a newsletter or an email, or posting it on social media or a website.