Operation Christmas Child and Your Business
Operation Christmas Child is a hands-on way for Canadians to bless struggling children in the developing world by filling shoeboxes with toys, hygiene items, and school supplies. We collect the boxes and distribute them in the Name of Jesus Christ to children living in desperate situations.
Will you reach out when the need is greatest?
Each shoebox is an opportunity not only to delight the heart of a child, but best of all to open the door for them to attend The Greatest Journey, our follow-up discipleship program taught by local churches.
Share the Gospel in your community and overseas
Businesses across Canada have discovered that packing shoeboxes in the midst of the COVID-19 crisis brings people together in a time when many are feeling isolated. It also opens doors for sharing the Gospel by inviting your customers to join you.
How your business can participate safely
Whether you are meeting with your customers and staff online, in-person, or both, there are plenty of ways to safely pack shoeboxes and participate in Operation Christmas Child:
1. Pack online at PackaBox.ca Encourage your staff and customers to pack shoeboxes online at PackaBox.ca. With a few clicks you can choose gifts and upload letters and photos. We'll pack, ship, and distribute each box for a donation of just $40. You can also create a goal page for your business to use to track it's shoebox goal.
2. Place an order for all the supplies you need Order everything they need to pack shoeboxes, by visiting our website. Place an order yourself, and challenge your staff and customers to pack shoebox gifts. Get social! Get the word out by advertising Operation Christmas Child on your business website and social channels. All the digital assets you need are on our website.
3. Get creative while self-isolating Use an online video conferencing site to 'gather' staff together. Staff can pack their boxes at home, but still share in the excitement.
4. Provide Gifts-in-Kind Donated items from organizations and businesses make it possible for us to ensure that each shoebox gift is full of appropriate items that meet customs requirements.
5. Raise funds for Operation Christmas Child Invite your staff and customers to support Operation Christmas Child or The Greatest Journey discipleship program using our SponsorMe fundraising platform.
National Collection Week is November 14-20, 2022
Find a convenient drop-off location for your shoeboxes at SamaritansPurse.ca/OCC.
"One of our company's values is 'We are here to do good'. We are always looking for ways to leverage the resources we have to give back to our communities and help out organizations in need. Operation Christmas Child does a lot of good in the world and we feel privileged to be able to partner with them and help where we can."
Adam Kaufman, Store Manager,
Big Steel Box, Kamloops, British Colombia
"QJS organizes a yearly event called "Christmas in October" in partnership with Operation Christmas Child where in lieu of corporate gifts we extend the invitation to clients, local business and the community to celebrate and help us reach our yearly goal. We love the team effort involved from all our employees and partners that helps to bring joy and hope into the lives of less fortunate children around the world, through gift-filled shoeboxes."
Paula Casey, owner,
Quality Janitorial Services, Whitby, Ontario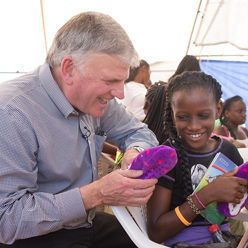 "I want every child to know there is a God who loves them."
Franklin Graham,
President, Samaritan's Purse