In the Philippines simple shoebox gifts from Canada and The Greatest Journey are helping share a powerful, life-transforming message of hope.
Operation Christmas Child
080053
About The Philippines
The Philippines is a sprawling country in Southeast Asia that consists of an astounding 7,600-plus islands. Though more than 114 million people call the Philippines home, its total land mass is less than half the size of Alberta.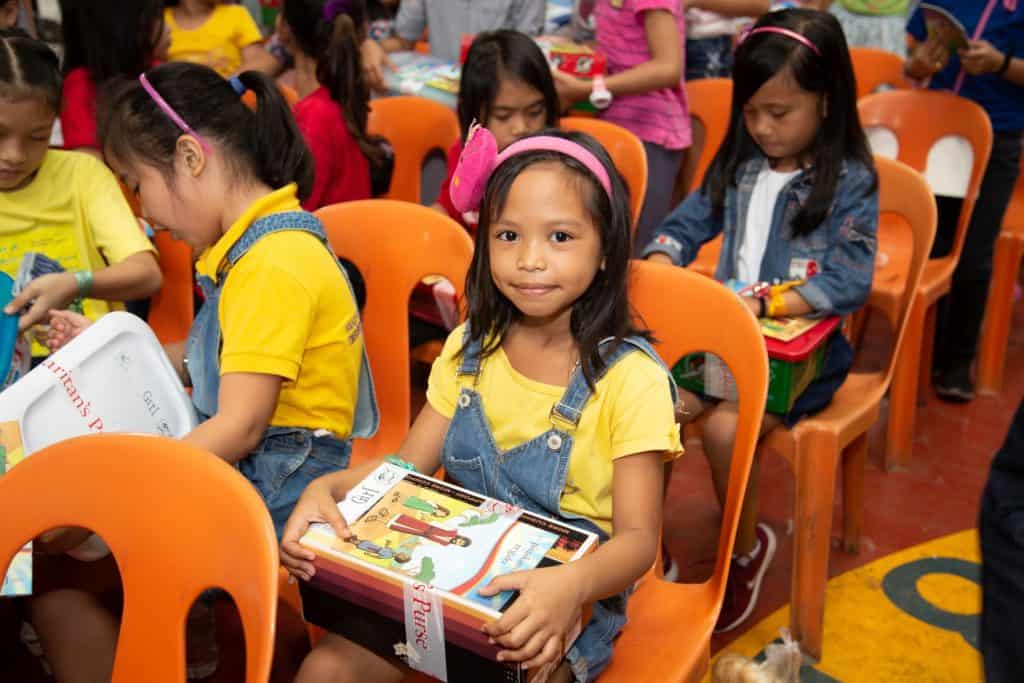 The country hosts many ethnic groups that speak over 100 different dialects. Its landscape is also stunning, boasting everything from white sandy beaches and towering mountain peaks to leafy palm trees.
Unfortunately, many children live in poverty and lack basic needs like clean water, electricity, and quality education. For these children, shoeboxes packed by generous people like you are more than just gifts—they help meet real needs for clothing, school supplies, and other everyday items. They also open the door for many boys and girls to hear about Jesus for the first time or to grow in understanding of what it means to have a relationship with Him.
God Uses Shoeboxes to Answer Prayer
For one struggling mother in the Philippines, it was the simple gift of school supplies that moved her to tears. Their household income is barely enough to cover their daily needs for survival. Therefore, her two daughters go without many important things that are needed but simply unaffordable.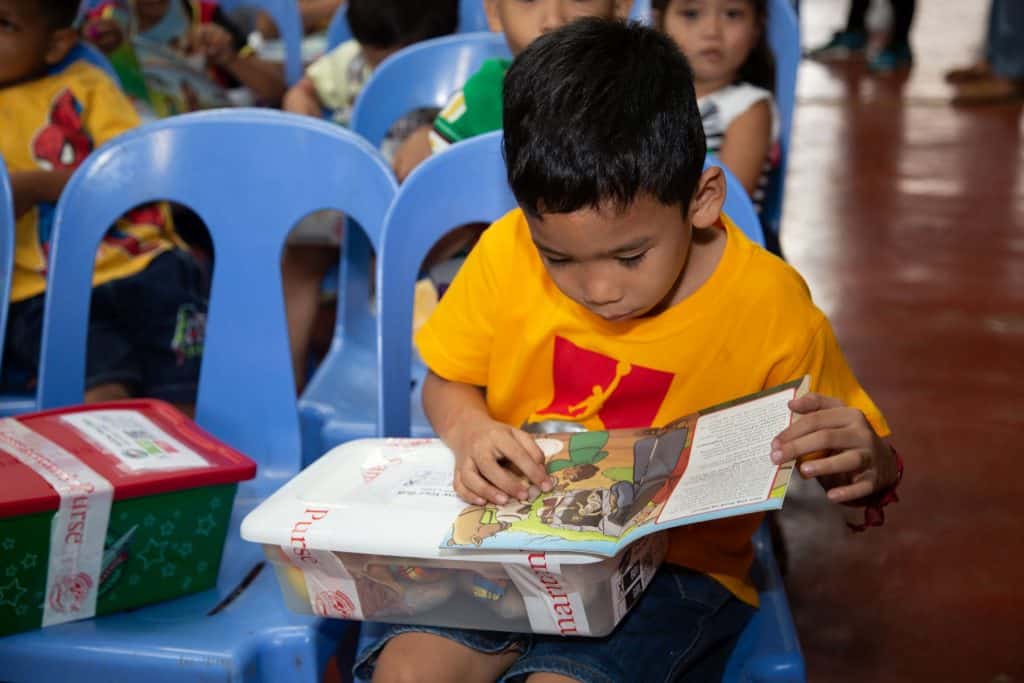 "When her children opened the gift that was given to them, her tears flowed because the Lord responded to the needs of her children: school supplies," said our partner. Her husband thanked Operation Christmas Child, "Through this, the Lord answered their prayer."
School supplies were also a blessing to Tala,* who opened her shoebox to find items she could use and share.
"It's not only me that benefits, but also my family," she said. "It had school items like a notebook and coloring materials, which I can use in my studies, and the scarf goes to my mother."
When shoeboxes are prayerfully packed, we can be confident that God will use the contents to meet needs, teach them about generosity, and answer their families' prayers. That's why our partners report again and again how specific items blessed the hearts of children and their parents!
Best of all, each shoebox points to an even greater gift: "Thanks also to the teachers who teach us about Jesus, the Greatest Gift I've ever received," said Tala. "The gift of salvation."
The Greatest Journey
In the weeks following a shoebox outreach event, churches that partner with Operation Christmas Child invite children to participate in The Greatest Journey. Through this 12-lesson follow-up discipleship program, children learn to follow Christ and share Him with others.
Since 2011, more than 1.9 million boys and girls have enrolled in The Greatest Journey, and over 1.4 million have prayed to receive Jesus Christ as their Lord and Savior.
Boxes Lead to Baptisms
The roar of several motorcycle engines could be heard drawing closer to a remote village in the southern Philippines. They were hauling cartfuls of gift-filled shoeboxes to be given to 100 children from the Manobo tribe. They also brought supplies, including a generator.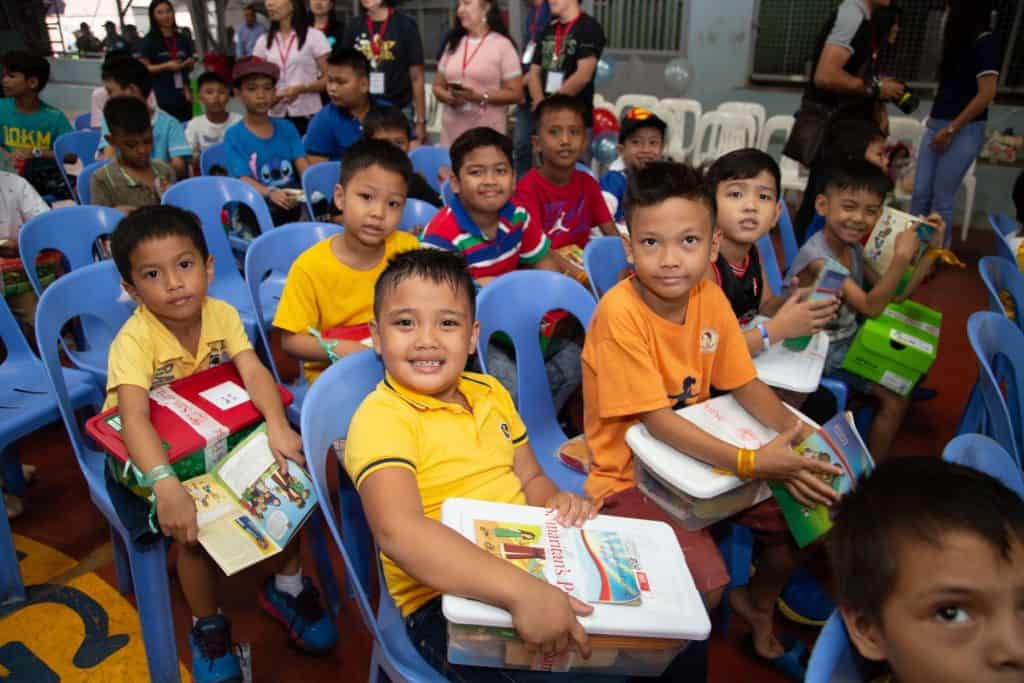 For a community that has few resources—not even electricity—the arrival of the boxes and equipment was a huge blessing. It took our church partner three hours to travel there. Little did they know that they'd be making many more trips!
All of the children who attended the shoebox outreach event decided to receive Jesus Christ as their Lord and Savior. They voluntarily enrolled in 12 lessons of The Greatest Journey (TGJ) follow-up discipleship course.
As children and parents alike grew in their understanding of the Gospel, our church partner continued to return for Bible studies even after The Greatest Journey graduation. "Praise God, there were 16 adults and 10 children baptized!" our partner reported. A new church was born!
The natural next step was to build a simple structure where the new believers could meet. Now, even more lives can be reached with the Good News in this remote part of the Philippines. And it all started with the simple gift of shoeboxes!
Ways You Can Pray for The Philippines
Pray for the churches partnering with Operation Christmas Child as they are trained and prepared to host outreach events and distribute shoeboxes
Pray for the training of The Greatest Journey teachers
Pray for children to experience Christ's love and for their hearts to be open to the Gospel
Would you like to receive regular updates and praise reports to help you pray for Operation Christmas Child around the world? Consider becoming a Prayer Network Partner.
Become a Prayer Network Partner
*Name changed to protect privacy.