Crisis in Ukraine
Caring for Ukranians as Winter Approaches
Samaritan's Purse staff are continuing to support medical work and food distributions in Ukraine while over 70 church partners care for displaced refugees around Europe.


To date, Samaritan's Purse has served over 8 million people in our Ukraine response. This has included seeing over 20,000 medical patients and providing more than 23 million liters of clean water as well as over 86 million pounds of food. Much of this relief has been supplied through more than 30 flights of the Samaritan's Purse DC-8 aircraft.
Over 70 Samaritan's Purse partners have helped 150,000 Ukrainians displaced by the war in 17 countries across Europe. Through European church partners, we are providing for their physical needs while also providing the hope of Christ.
Twenty-six airlift missions have brought relief for those struggling inside Ukraine.
More than 7 million refugees from Ukraine have spread across Europe, the United States, Canada, and other countries worldwide. Many millions are also internally displaced due to the conflict.
Samaritan's Purse Canada is Responding in Europe to the Needs of Ukrainians
In the early hours of February 24, conflict broke out in Ukraine and upended the lives of millions of people. Many were trapped in the middle of the violence. Others fled to an unknown future.
Samaritan's Purse is responding to needs in Ukraine and Europe as fighting continues. Millions of refugees have fled to nearby countries; millions more are displaced within Ukraine.
Outside of Ukraine, Samaritan's Purse is responding to the more than 7 million refugees who have fled. Through a network of church partners, we are providing them with food, shelter, school support for children, and trauma care as they heal.
Samaritan's Purse Canada has sent over 80 Disaster Assistance Response Team (DART) members to Ukraine to fill both medical and non-medical roles. Some have been deployed to staff and give leadership to Emergency Field Hospitals. Others are helping to provide medical care in western, southwestern, and central Ukraine. Some DART members are also working to distribute food and non-food relief items.
Willing to serve on a Disaster Assistance Response Team? Christian Medical and Non-Medical Staff Needed.

If you are interested in joining our DART roster to be a part of these types of disaster responses, click here to apply.
Serving More Than 4 Million People
Samaritan's Purse has served more than 4 million people throughout the first five months of this response. We have distributed over 21,000 metric tons of food within Ukraine in partnership with the local Church. Our water systems and newly constructed freshwater wells have provided more than 8.5 million liters of water to Ukrainians. Twenty-six airlift missions have brought relief to those struggling inside Ukraine.
Responding to the Refugee Crisis
There are currently an estimated 7.28 million Ukrainian refugees across Europe. The task of meeting their needs is momentous and unique. Unlike many other crises, refugees fleeing into Europe have not primarily been hosted in large transit centers or camps. Instead, the Church has played a crucial role by housing Ukrainians in church buildings, homes, and Christian camps. As in Ukraine, where a network of church partners has been a critical component of our response, European churches have also rallied to meet urgent needs. These churches in Ukraine and Europe are part of Samaritan's Purse International's network across the continent.
Caring for the Vulnerable
Ninety percent of Ukrainian refugees are women and children. Many do not know the fate of their husbands or fathers. They are left with an uncertain future, vulnerable to exploitation as they deal with trauma. It is these people—the most vulnerable—that Samaritan's Purse Canada's partners are reaching. The needs are great. Even so, the Body of Christ, with the support of Samaritan's Purse Canada, is boldly seeking to respond to the most vulnerable in Jesus' Name.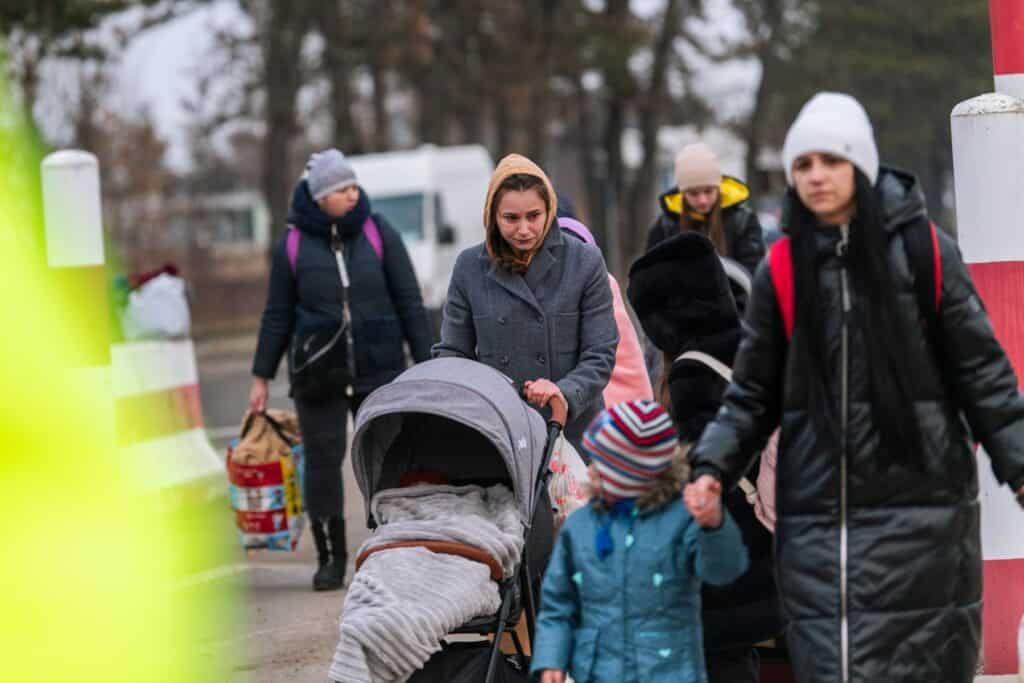 Samaritan's Purse Flights Deliver Ukrainians to Safety
Under the Canada-Ukraine Authorization for Emergency Travel, the Samaritan's Purse DC-8 aircraft brought Ukrainian refugees from Katowice, Poland to Toronto, Ontario. From May to July, the plane undertook 10 flights, carrying 264 people to safety. Some of the families are hopeful for a bright future.
Others are anxious about loved ones back home. Still more are filled with disbelief that 'normal life' has all but ended. Most are experiencing mixed emotions—great relief and much grief. Samaritan's Purse is helping these refugees settle into Canadian communities. That includes following up with their host families, connecting them with Ukrainian speakers, and introducing them to local churches where they can find a Christ-centered, caring community. As we do this work, we tell them about Jesus Christ and what it means to have a personal relationship with Him.
Looking to the Future
As the war in Ukraine rages on, the needs in Europe remain critical. Winter is fast approaching. An energy crisis looms. Costs are rising. In the early weeks of the response, we looked primarily at meeting the most urgent, short-term needs. Looking forward, our goals now also include helping Ukrainians thrive for the foreseeable future. For some, this temporary displacement to other countries will become permanent or, at least, lengthy.
The needs now include language acquisition, schooling for children, and livelihood training for women. Overwhelmingly, there is a need for trauma support, psychosocial care, and opportunities to heal from the wounds of war. In November, Samaritan's Purse is hosting a learning exchange for our more than 70 church partners across Europe. They will come together to share best practices while also encouraging and praying for one another in the mission that is ahead.
Samaritan's Purse Canada will continue to respond to those devastated by the war. During this time of violence and pain, we are linking arms with the European Church to bring help and hope to Ukrainians who have lost everything. This incredible movement—this power of partnership—will continue to shine the light of the Gospel amidst a time of darkness.
"Ukrainian families are hurting and in desperate need of prayer and support as millions flee for their lives," said Franklin Graham. "We want to meet the needs of these families in their darkest moments while pointing them to the light and hope of Jesus Christ. Please join me in praying for the people of Ukraine and for this conflict to end quickly."
Articles

Podcasts

Tangible Love: Serving Patients in Ukraine
MAY 13, 2022

For Such a Time as This: Ukraine
March 28, 2022

The Headlines: Samaritan's Purse Sends Emergency Field Hospital to Ukraine
March 7, 2022

Ukraine Crisis: Behind-the-Scenes as the Response Develops
March 2, 2022

The Headlines: Our Prayer for Ukraine
February 26, 2022

On the Ground Podcast

A podcast taking you to the frontlines and behind the scenes of our work around the world.