Whether this is your first time filling a shoebox or you've been at it for years, use the list below to jump-start your packing!
Operation Christmas Child
080053
Shoebox season is here! As you pray about how your shoebox can bring great joy and the Good News of Jesus Christ to boys and girls in need, take a moment to check out our short list of innovative packing ideas. If you implement one or more of these suggestions and choose quality gifts, then your Operation Christmas Child shoebox is sure to become a priceless treasure for the child who receives it!
1. Choose a Theme
Select a favorite color, animal, or Bible verse and coordinate the items in your box around it. This little bit of additional effort goes a long way in delighting a child!
Shoebox packer Julie Quantz of Didsbury, Alberta has seen the impact of shoeboxes firsthand when she went on a Mission Trip Project to Costa Rica. "I've seen the program in action and it's making a difference in Heaven," Julie said. She works throughout the year to prepare her themed shoeboxes for National Collection Week, and she created the pink box [pictured above] with visions of encouraging a child whose favorite color is pink.
"I believe in what Operation Christmas Child is doing," Julie said, referring specifically to The Greatest Journey. Whenever possible, this 12-lesson evangelism and discipleship program is offered by partner churches to every child who receives a gift-filled shoebox.
2. Personalize It!
In addition to including a note to the child and a photo of yourself inside, you can actually personalize the box itself as well!
Sue Luma of Egg Harbor Township, New Jersey, makes sure that every shoebox gift she packs has a personalized lid, bearing encouraging words and drawings. She wants each child to know that someone loved them enough to create the special artwork for them. At times, she designs some lids to be more interactive, containing a road, checkerboard, or a dollhouse scene for the child to use when playing with the items in their shoebox. She even makes sure that the box contents follow the theme of her lids.
"I pray that their eyes will just see Jesus, that their hearts will be so filled and know that Jesus loves them," Sue said.
Another way to make personalize your shoebox is to have your children download the "Let's Be Friends" coloring sheet. This fun page is available in both color and black and white, and allows kids to color in what province they live in, as well as some of their favorite activities.
3. Make Your "Wow" Item Special!
Try including an instrument, stuffed animal, or quality craft inside your shoebox gift as the item designed to "wow" the child when they open it. Nicole Chicote enjoys making peg people for her shoeboxes, which are a great addition to her boxes for the 2-4 year-olds. "Each one has a heart on the bottom, symbolizing that these were made and sent with our love, and also that they are loved and known by our dear Lord!" She also liked to include a wooden box that doubles as a play scene and storage.
Other fun ideas include a hammock, winter coat, rain gear, or remote-control vehicles (with extra batteries). Or if you're a crafter, handmade doll clothes are great to include as well. Deflated soccer balls with pumps and cuddly stuffed animals are always a good addition, too!
4. Did You Know THIS Could Also Be Included?
Watercolor sets, glue sticks, markers, store-bought creative dough, and non-medicated, stick-style lip balm can all be included! Squirt guns that don't look like real guns are also a real hit with shoebox recipients, as are marbles, plastic mirrors, and non-liquid make-up. Wet wipes are also a great idea—just make sure they're not the antibacterial or medicated kind. View tips and suggestions on what to pack in shoeboxes.
Sara Lewis of West Union, Ohio, has been packing shoeboxes for 14 years and loves to include reusable feminine hygiene products in her shoeboxes. "In a lot of countries, if these girls don't have the supplies they need, they don't get to attend school," said Sara. "How horrible is that to have to miss a whole week of school every month!" In each box, she packs five reusable pads, four pairs of underwear, and 20 feet of clothesline to aid in the laundry process.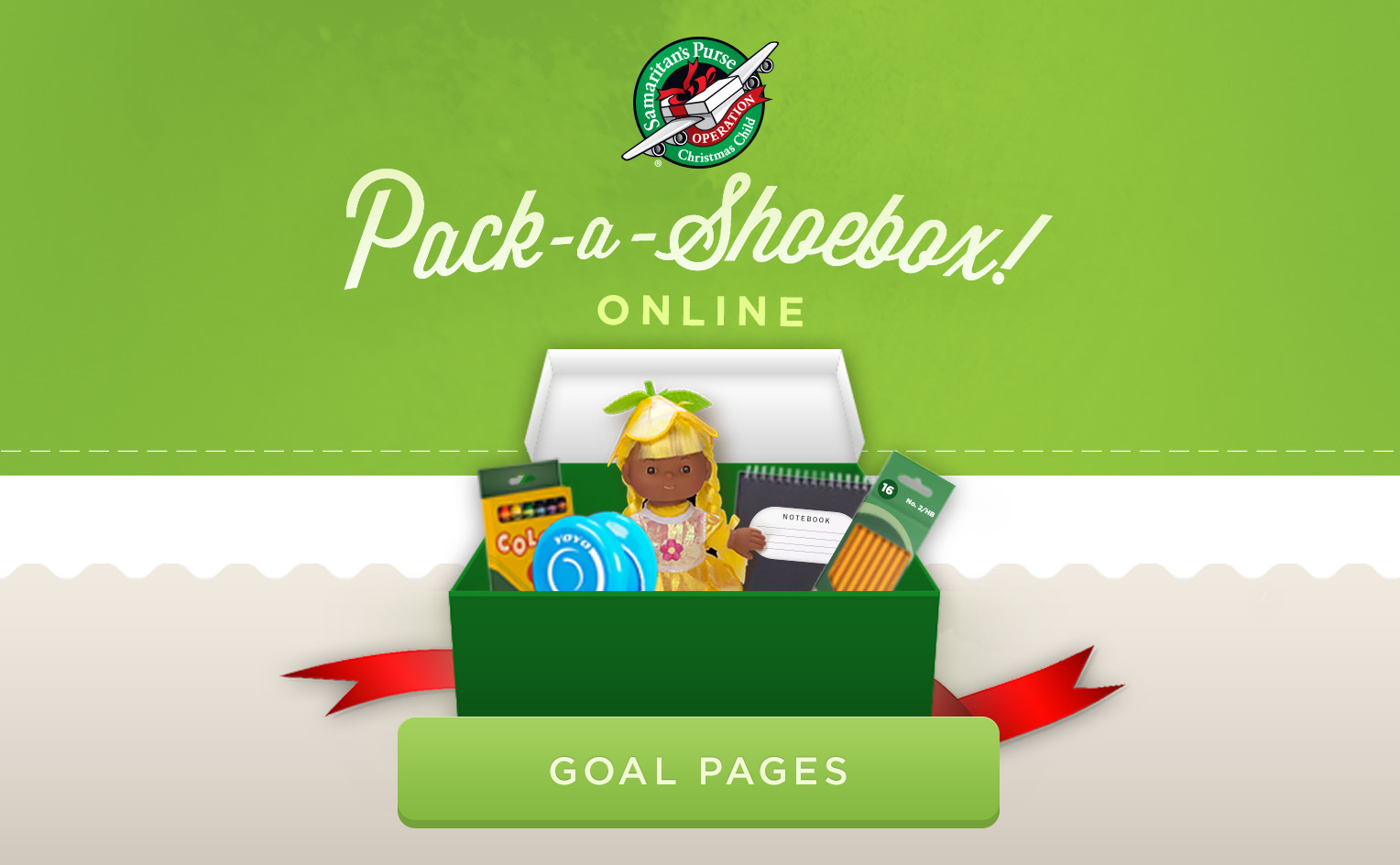 Our online option for packing shoeboxes provides a great way to honor a loved one or celebrate a special birthday or anniversary! This is especially true if you opt to create a goal page at PackaBox.ca. You can name your goal page in honor of an occasion or special someone and invite others to join you in celebrating! Some goal pages have encouraged people to pack boxes in honor of a birthday or to remember a late friend's birthday because he had such a heart for children. Goal pages are a great option for churches, schools, and businesses to engage friends and family to help reach their goal!
National Collection Week 2023 is Nov. 13-19. Please pack a shoebox!