Evangelism success in Costa Rica inspires Canadian pastor.
When Dale Betts traveled to Costa Rica with Samaritan's Purse to help distribute Operation Christmas Child shoeboxes, he didn't realize the full extent of this ministry-and how it's changing lives for all eternity.
"I knew Operation Christmas Child gave away boxes to kids who were less fortunate than us, and that's it," said Betts, the executive pastor at Moncton Wesleyan Church in New Brunswick.
His church participates in the program, but now that he has seen how God is using these shoeboxes, he's more committed than ever.
The trip, with Betts and three other Canadian pastors, included a key part of the ministry: The Greatest Journey. This 12-week evangelism and discipleship course is offered by our church partners to every child who has received a gift-filled shoebox packed by generous Canadians.
Those who accept the invitation learn about Jesus Christ and are invited to commit their lives to Him. Then they learn what it means to live as a Jesus follower. Finally, they are taught how to share their faith in Christ, especially with family members and friends.
The result? Since 2009, more than two million children in developing nations have come to faith in He who is "the way and the truth and the life" (John 14:6).
"I knew The Greatest Journey was tied to the shoeboxes, but I didn't know how it fit," said Betts outside a government-funded Costa Rica daycare center for impoverished families. While he spoke, about 40 children inside the daycare were excitedly opening their shoeboxes and comparing contents.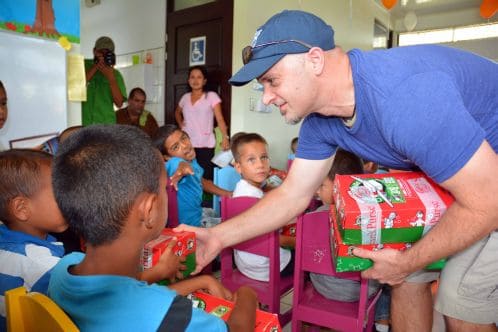 "Being here with the pastors' team allowed me to see how with every shoebox is the gift of the Gospel. It's not just a one-off, here's-a-box, here's-the-Gospel, see-you-later process."
Now that he has experienced the fullness of what God is doing through Operation Christmas Child, Betts challenges other Canadian pastors to get their churches involved with the program.
"Encourage your congregation to fill shoeboxes, but understand what you're really doing. It's more than the boxes, it's an opportunity for us Canadians to partner with the big-c Church to get the message [of Jesus Christ] out across the world."