The quotes below come from Samaritan's Purse Team members as they processed their trip and its significance in their lives.
April, 2014—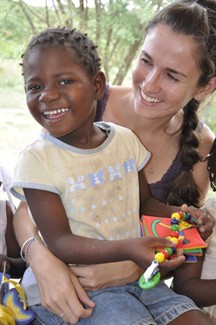 "What an amazing opportunity to be the hands and feet of Jesus, and what a challenge to my walk with Christ."
"We say that Operation Christmas Child's impact is through 'the power of a simple gift', but until you've seen it, you can't really grasp how powerful it truly is."
"This makes the work I do on a Connect Team back home even more meaningful and relatable." (Connect Teams organize, promote, and pray for Operation Christmas Child Canada-wide)
"The people we met during our Teams trip are on fire for God! They are fighting poverty, hopelessness, and darkness every day. I've come away from this trip appreciating how much I have, and more aware of the living situation and needs of others."
"I am so blessed to have had the opportunity to give a little love to some children during my Teams trip."
"The [shoebox] distribution I was a part of not only brought joy to many children, but also began contact with the local church and the children they otherwise wouldn't have been able to reach. Children and their families are coming to know Jesus!"
"My trip was so inspiring and a blessing!"
Have you been a part of a Samaritan's Purse Team and travelled worldwide to help hurting people? From construction, to distributing gift-filled shoeboxes, to providing safe, clean water to communities in need—you can make a difference.
Click here to learn more and join a team today!