A special shoebox connects young boys across continents, and reminds a Samaritan's Purse staff member how wonderfully God works.
Last July, I had the privilege of traveling to Senegal, West Africa on an Operation Christmas Child distribution trip. Having been on several distribution trips before, each experience has left me in awe of God's majesty in how He orchestrates connecting just the right shoebox gift to the right child!
We read the stories, we watch the videos, but they don't compare to the firsthand experience of looking into the eyes of a child as he or she opens their gift for the first time. Joy! Laughter! Excitement beyond description! It's an answer to many prayers for these kids who have so little.
Just how deeply personal these shoebox gifts can be to those who receive them was a lesson God revealed to me in Africa. But that lesson was in the works already in November of 2013. It was National Collection Week and I was in Edmonton to meet with volunteers while they collected thousands of shoeboxes being dropped off that week at the many collection centers.
I happened to pop by the collection center in Sherwood Park at the same time 12-year-old Ethan was delivering 85 shoeboxes packed by students at his school. His mother shared Ethan's love for this project and how he decided he wanted to use his leadership skills and coordinate this as a school project.
Inspired by how God was using Ethan to promote the ministry at his school, I offered to hand-deliver one of their boxes on my next trip. Carefully, Ethan selected the biggest shoebox he could find from the pile. Nine months later, safely tucked into my suitcase, the shoebox journeyed via Amsterdam, Paris, and Dakar!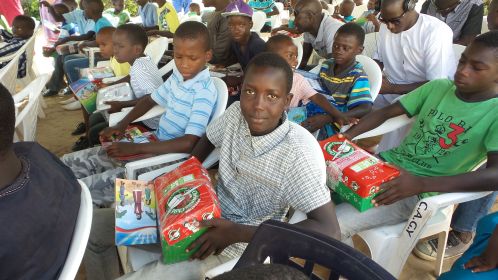 On our first day in Senegal, I felt compelled to bring the shoebox with me to a distribution that was to take place at a prison. There were about 200 children gathered in a secured courtyard at one of the several local prisons in Dakar. These children are living through some very troubling situations-all of them have a parent who is an inmate.
That day, God tugged on my heart to give Ethan's school's shoebox gift to 12-year-old Mohamed. As he opened his box, his expressionless face turned to pure joy! With a smile from ear to ear, he peeled through the layers of items that filled his shoebox gift. There in the middle of the socks, underwear, hygiene items, and school supplies was a Canadian hockey jersey! Though he had never heard of hockey, he was so touched to know that all these items were for him to keep.
It didn't end there. At the bottom of Mohamed's box was a letter. It had been prepared by the little boy from Ethan's school who had packed the box. His name was Kyle. He was nine years old. He lived in Edmonton, Alberta. He had drawn a picture of himself and had marked on a map exactly where his home was located.
Through the translator, we shared all this information with Mohamed. It was at that moment I understood how incredibly personal our God is. Through tear-filled eyes, I asked Mohamed, "If I could give Kyle a message from you, what would you have me say?" Mohamed's response was, "Please tell Kyle I want him to be my brother."
This was deeply personal for Mohamed. It later became very personal to Ethan when I he heard the story of Mohamed. It became personal for Kyle and all the students, teachers, and parents who heard Ethan share the story at the assembly that launched Operation Christmas Child for 2014. God simply used me to connect these brothers and to show us all how wide and long and high and deep is His love for all of his children. God is personal.