It's easy for your business or organization to support Operation Christmas Child through in-kind donations. From toys and school supplies to machinery and transportation, the opportunities are endless.
Looking for a way to clear out excess inventories? Operation Christmas Child makes it easy!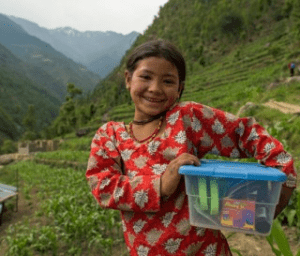 Benefits for your company:
Significant tax deductions
Free pick up of your items (in most cases)
Clear out large quantities of excess inventory (over-stock, discontinued, misprinted, unsalable items) that you currently pay to store or throw away)
Prevent product from entering the domestic market (gift items are distributed overseas)
Opportunities to promote your business alongside the world's largest children's Christmas project
We can use:
A variety of gift items to fill shoebox gifts for hurting children:
Hygiene Items (toothbrushes, hair brushes, combs, hair bows, face cloths, bar soap)
School Supplies (notebooks, pens, pencils, crayons, calculators)
Toys (yo-yo's, toy cars, marbles, stuffed animals, small instruments)
Clothing Items (outdated branded clothing, t-shirts, hats, flip-flops, sunglasses)
Hospitality supplies for thousands of volunteers
Plastic cutlery, paper plates, napkins, and paper cups
Food (beverages, baked goods, lunch items, soup)
Warehouse supplies to keep our operation running smoothly
Markers, tape guns, utility knives, packing tape, elastics, and more
Machinery
Equipment such as forklifts, floor trucks, etc. can be given outright, loaned to us for a short time, or donated as a rental.
Warehouse Space (locations)
Before being shipped overseas, each gift must be inspected and prepared. Hundreds of thousands of shoeboxes and thousands of volunteers take up a lot of space. You can help us each fall by donating empty warehouse space to be used as a processing center. Facilities from 30,000 to 100,000 square feet are needed near Kitchener/Waterloo, Cambridge or the Greater Toronto Area.
Transportation to move hundreds of thousands of gifts cross-Canada and internationally
Advertising
Your gift of print, radio, television, or online advertising or airtime can have a tremendous impact by inspiring more individuals to pack shoebox gifts.
Promotions
Gifts such as tickets to events or attractions can provide exciting incentives that can be used during Operation Christmas Child special promotions or contests.
Printing
Operation Christmas Child produces a considerable amount of promotional materials each year. Production of these materials happens during the second quarter of each year.
Other
If you have a question about your product or service as a gift-in-kind, please contact us via the form below.
Email [email protected] to see how you can get involved.