Lisa Gareau, Marketing & Partnerships Manager with Samaritan's Purse, shared about her recent trip to visit projects in Costa Rica with Calgary and Edmonton Police Services.
As the team drove up the windy road to the recovery center we all wanted to approach the morning with both respect and warmth- but we were curious about the stories we were to going hear. The recovery center is a small independent home that is a refuge for young men looking to free themselves from the strong ties of addiction with the support of the staff and others facing similar challenges.
Members of the police service have learned to manage the consequences of drugs, alcohol, and other addictive habits back home on the streets in Edmonton and Calgary. They are trained to see, recognize, and even analyze the wider, over arching patterns of that those caught in addiction.
It's a different thing completely to look into the heart and history of an addict and really hear their story.
And hear stories we did. There were some that were new to the center-simply feeling their way around a new way of handling the hours in the day without the comfort of a hit or drink. Others had not only found a new way to handle the difficult hour to hour, day to day, month to month battle but have moved to a new freedom, a new way of living, and a new-found restoration with those they love.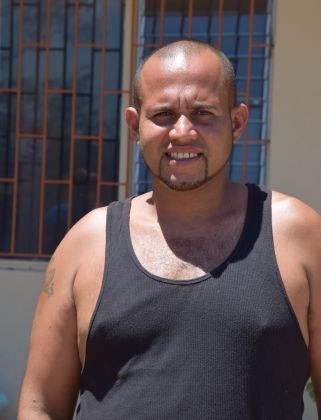 Efarith was born into a world of conflict surrounded by drugs and alcohol. He felt abandoned by his parents who left him to be raised by his abusive nanny and he wondered, "Why me?" moving deeper into drug and alcohol abuse. He didn't spend more time wondering and left his dysfunctional home for the streets. He left, racing from his abusive home, right into a new environment filled with assault, killing, and drugs.
He was still a kid when he became a father at 14 but even then his addiction continued but now it was his own son that was the audience to his dangerous lifestyle. It wasn't until he was in jail that he had heard of Jesus and the freedom available in Christ. He also heard of the opportunity to join the program at the rehab center. But he wasn't ready for the center-let alone a relationship with Jesus.
When he turned 25 he realized it was time to turn things around-to let go of the control he so desperately wanted, move past a life of crime and drugs. It was time to come to the centre to find something more. When he realized that he was being loved and cared for by the staff and, more importantly, that he was loved and cared for by God, he was able to forgive his parents, make life-saving changes, and live in a new freedom and hope.