Learn about an Operation Christmas Child shoebox distribution in Eastern Ukraine
By Operation Christmas Child's National Coordinator in Ukraine
Several of Samaritan's Purse ministry partners minister to children who have suffered in the war in the eastern Ukraine. The members of Zaporozhye Regional Leadership Team (RLT) go twice a week to different towns and visit children who live close to the war zone. I have received an invitation to go to one of these trips to Krasnogorovka.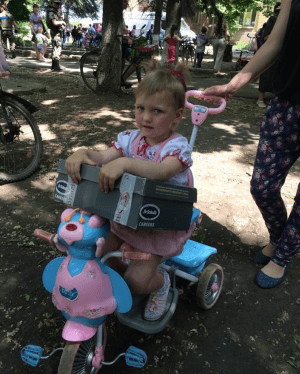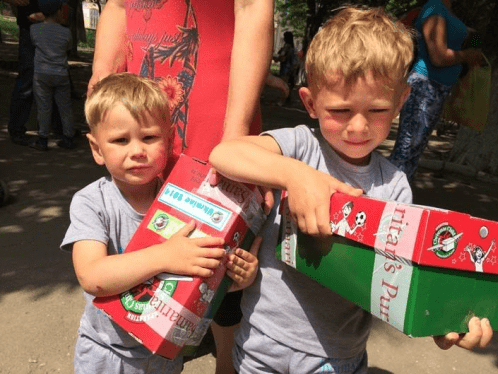 Behind this town there is Donetsk and territories controlled by separatists and bandits. We took Operation Christmas Child shoeboxes and about 500 loaves of bread. We started early in the morning because you can go visit that area only in daytime. This trip was coordinated by our government, so we were accompanied by two officers for our protection and faster passing through checkpoints.
On the way, we passed five checkpoints, there were two more checkpoints ahead of us and there was the territory that was not controlled by Ukraine. At one of the last checkpoints there was a temporary customs and tax service. There was a lot of transport waiting, and to pass the checkpoint we would have to wait for five hours because each car, luggage and documents were inspected.
After passing through temporary customs, we got to the buffer zone of the military conflict. There are tens of thousands of people who live there. After a couple more checkpoints, we are in Krasnogorovka. Forty-thousand people used to live there, but now there were only 15,000. Last year the town was captured by separatists, but they were pushed out by Ukrainian army.
The town has a lot of destruction from artillery. One school's roof and windows have suffered lots of damage.
There were more than 300 children and their parents at the shoebox distribution. I was looking at those children and thought, "Why they are here, why they have not moved to a new peaceful place?" Here, everything is saturated with war, blood and destruction. Sometimes mortar shells are coming in and shots are fired.
One boy named Misha took out all the things from the shoebox and on pavement and was looking at each thing from the box, he kept saying "I'm so glad, I'm so glad!"
I talked with several parents. Some of them are alcoholics and the children's safety is not a priority for them. Some people have disabled relatives and cannot go anywhere. Some people just cannot leave their place, and some are just used to the war. And children are hostages of the war. Not long ago, a mortar shell wounded two boys who were playing soccer.
Our Operation Christmas Child volunteers told them about Jesus, who cares for children and loves them. They sang some songs and all the kids received shoeboxes-it was a huge celebration for them. These children don't smile often. One boy named Misha took out all the things from the shoebox and on pavement and was looking at each thing from the box, he kept saying "I'm so glad, I'm so glad!"
Food insecurity and war have taken their toll
We also offered children a fresh loaf of bread. In other places, kids who received gifts would not pay attention to the bread, but in Krasnogorovka, almost all of them lined up for bread. None of the businesses are open there. Groceries are brought in irregularly; therefore children think about food. In 15 minutes, the event was over and the place was empty. After 2 p.m., people try not to be outside. We left very quickly, because shooting could start any moment.
I'm very glad that our ministry partners have prepared events for children in war zone towns where we can go, in order to demonstrate God's love and care for children in eastern Ukraine.
Please continue to pray for Ukraine. Two days after my trip, our ministry partners went to the town of Marinka and came under fire. A mortar shell exploded very close by.