Volunteer to Assemble Shoeboxes Packed Online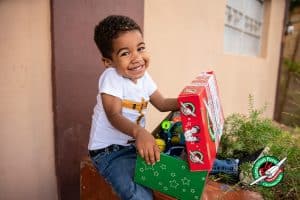 We praise God that thousands of shoebox gifts were ordered this year through Pack a Box Online! Yet before these boxes can make their way to children with the message of His love, they must be assembled. You're invited to participate in this unique response to bless boys and girls around the world. Whether you're interested in serving as an individual or with a group, you can have a direct part in shining Christ's light worldwide.
Volunteer Forms
Upon arrival at the Processing Center, the following form is required. Please print and bring this completed form with you when you come for your volunteer shift:
Contact Us
Our address is 20 Hopewell Way N.E., Calgary.
If you have any questions regarding processing center volunteer opportunities, do not hesitate to contact us at occ@samaritan.ca.
Processing center volunteer opportunities are restricted to those 14 years of age or older. At least one adult 18 years or older is required for every 5 youth volunteers between 14-17 years of age.
Job Opportunities
Are you interested in being a part of what God is doing through Samaritan's Purse? If you have a passion for the Gospel of Jesus and would like to apply to join our team please check out the job opportunities available.
Get Involved
We also have year-round opportunities for volunteers to serve in a variety of unique roles. Click here to learn more about these opportunities.
We have opportunities for volunteer groups of all sizes. You can volunteer as an individual or with family and friends.
At our Operation Christmas Child processing center in Calgary, you will work with hundreds of other volunteers to inspect shoeboxes and ensure that the contents are appropriate for children and meet customs regulations.
Learn how to pack a shoebox, and bring your gift-filled shoeboxes with you when you come to your shift! You can also pack shoeboxes online at PackaBox.ca.
Volunteer Opportunities
Calgary Processing Center – Year Round Volunteer Projects
In the Calgary processing center we have year-round special volunteer projects like Pack A Box and Material Distribution (preparing all the promotional materials to go out in the fall). If you would like to learn more or be notified of upcoming volunteer opportunities in Calgary, please call 403-250-6565 or email occ@samaritan.ca.
⇣Download Short-Term Volunteer Release Form
Calgary Processing Center – November/December Processing
Millions of shoeboxes are collected during National Collection Week in November. Before these special gifts can bring hope and joy to children around the world, each one has to be carefully inspected and made ready for overseas shipment by volunteers like you. During late November to mid-December you can help prepare shoeboxes for delivery by volunteering at the Calgary processing center.
Year-Round Volunteering
We also have year-round opportunities for volunteers to serve in a variety of unique roles. Click here to learn more about these opportunities.
Ontario Processing Center Closure Update
Every time a shoebox gift arrives in the hands of a child, the hands of thousands of volunteers—including yours—have made it possible. We deeply value your involvement, which is why we want to give you an important Operation Christmas Child update about the Ontario processing center.
---
Frequently Asked Questions
Before you serve, check out our COVID-19 landing page to see the precautions Operation Christmas Child is taking to help protect the health of our volunteers.
What are the roles at a processing center?
Every volunteer in the processing center plays an important role in the ministry of Operation Christmas Child, ensuring the integrity and successful delivery of the gifts. Volunteers in the processing center form teams and perform all the tasks necessary to process the shoeboxes.
Teams are responsible for removing financial contributions from the shoeboxes, inspecting the gifts, sorting inappropriate items, working with filler items, separating boxes by age and gender, and packing shoeboxes in designated cartons.
Due to the fast-paced environment of the warehouse and changing needs, you may be asked to do different tasks. We appreciate your flexibility.
Are there employment opportunities?
Yes, we recruit staff to help coach volunteers in the processing center beginning in late August. In the summer, check our employment page to see what opportunities exist for the Calgary processing center location.
Can any age volunteer?
Processing center volunteer opportunities are restricted to those 14 and older. One chaperone (18 years or older) for every five youth (ages 14-17) is required. The primary responsibility of a chaperone is to ensure the safety and appropriate behavior of youth volunteers. Processing center staff reserve the right to ask any group not acting in accordance with safety procedures and outlined policies to leave the building.
How can my under 14-year old child participate in Operation Christmas Child?
Packing a shoebox or hosting a shoebox packing party with their friends is an excellent way to be involved in Operation Christmas Child.
Processing center tours during processing season are suspended for 2021 due to COVID-19 distancing protocols.
What is the address of the processing center?
The processing center is at 20 Hopewell Way NE, Calgary, Alberta, T3J 5H5.
What should I wear to the processing center?
The processing center is in a warehouse, so please make proper provisions to be comfortably and appropriately dressed for this environment. Be prepared with closed-toe shoes appropriate for standing for long periods, and warm, layered, casual clothes as the temperature inside can vary. Breaks are available as needed.
What if the day I'd like to serve is full?
A volunteer coordinator can add you to the waiting list for your preferred time; if and when space opens up, we will contact you:
Email occvolunteerab@samaritan.ca for shifts in the Calgary processing center.