Operation Christmas Child Events
Operation Christmas Child is about sharing the Good News of Jesus!
Operation Christmas Child has the opportunity to reach millions of children with the Gospel each year! It is through churches and groups who are passionate about spreading the gospel that the Good News of Jesus Christ is being taken around the world to children in need through gift-filled shoeboxes.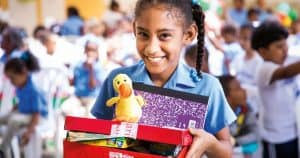 You are invited to join a local event in your area where you can learn and be equipped, alongside others, to lead your church or group in bringing the Good News of the gospel to children through packing shoebox gifts. You and your group have the opportunity to share with children around the world the love of Jesus; to have a global impact for the gospel from your own community.
"I have made you a light for the Gentiles, that you may bring salvation to the ends of the earth" – Acts 13:47
Each one of these local events are free to attend and will equip you with practical knowledge and resources on how to promote the ministry of Operation Christmas Child effectively in your church or group.
To find more information specific to each event, contact occoffice@samaritan.ca or call 1-800-663-6500.
---
Calgary, AB
Oct. 5, 2022 7:00 pm

Foothills Alliance Church
333 Edgepark Blvd. NW
Indian Harbour Lake, NS
Oct. 6, 2022 7:00 pm

Indian Harbour Lake Pentecostal Church
1643 Highway 211
Mississauga, ON
Oct. 11, 2022 7:00 pm

City Centre Baptist Church
1075 Eglinton Ave. West
Barrie, ON
Oct. 13, 2022 7:00 pm

Emmanuel Baptist Church
374 Salem Road
Peterborough, ON
Oct. 13, 2022 6:30 pm

Northview Community Church
1000 Fairbairn Street
Victoria, BC
Oct. 14, 2022 7:00 pm

North Douglas Church
675 Jolly Pl.
Salmon Arm, BC
Oct. 15, 2022 10:00 am

Broadview Evangelical Free Church
350 30 St. NE
Wasaga Beach, ON
Oct. 16, 2022 7:00 pm

Faith Evangelical Missionary Churchh
1355 River Road West
Bridgewater, NS
Oct. 17, 2022 7:00 pm

Impact Church
2573 Hwy 325
Greater Sudbury, ON
Oct. 18, 2022 7:00 pm

Lansing Avenue Baptist Chapel
1192 Lansing Ave.
Strathmore, AB
Oct. 18, 2022 7:00 pm

Strathmore Alliance Church
325 – 1 Ave.
Brampton, ON
Oct. 20, 2022 7:00 pm

Bramalea Baptist Church
9050 Dixie Rd.
Brandon, MB
Oct. 22, 2022 10:30 am

Faith Fellowship Baptist Church
4 Willowdale Crescent
You are visiting the Samaritan's Purse website for Operation Christmas Child Canada.
Click below if you would rather visit the site of one of our Samaritan's Purse affiliate offices: