Samaritan's Purse is helping fight exploitation and abuse by educating and training women in Nepal.
August, 2016—There is a tiny clothing store on a narrow side street in downtown Kathmandu where the female sales staff, who sew everything they sell, have endured unspeakable horrors.
One of the women— call her Pragya to protect her privacy-was only eight when her step-father raped her. Pragya's mother, rather than protecting the girl, viewed her as competition for her husband's attention. She refused to feed Pragya and eventually forced her out of their home. At only nine, Pragya became one of Kathmandu's many street children.
The other woman in the clothing store—call her Anu—endured many beatings from her husband before finally escaping with their child. She turned to prostitution as the only way to survive. Her child eventually died—leaving Anu despondent.
Both Pragya and Anu eventually learned about a Christian ministry partner of Samaritan's Purse in Kathmandu that, using donations from our Canadian supporters, is helping women escape the streets and the nightmare of prostitution in Nepal's busy, grimy capital city of more than one million.
Through this ministry partner, Samaritan's Purse donors have so far enabled 29 women  to begin new lives. In the first few weeks after the women leave the streets, we focus on building relationships with them. Gaining their trust is challenging because most have suffered nothing but exploitation and abuse. Then our focus shifts to counseling and vocational training: sewing, cooking, literacy, and farming.
Learn how Samaritan's Purse is helping to prevent the similar horrors of human trafficking in Cambodia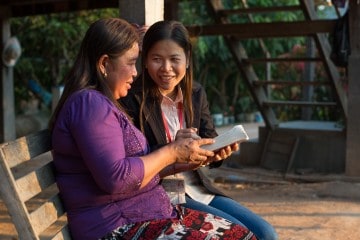 Sharing the hope of Christ is central to our anti-trafficking programs.
Several of the women we've helped have gone on to establish their own tailoring or dress-making businesses. Others are working for Kathmandu clothing manufacturers, or for local restaurants. One is a taxi driver, and another recently  was married.
"There are also two women that are now counselors with other organizations, helping people there," says the ministry's founder, who we'll call Amita to ensure her safety in a nation where Christians are sometimes persecuted, and represent only 1.4 per cent of the mostly Hindu population.
Pragya, now 18, and Anu, now 32, are a month from finishing the ministry program. Samaritan's Purse has been helping to cover their living costs while they grow their sewing business. Pragya is nervous about whether they'll earn enough money after our financial support ends next month, but Anu tells us she has no fears: "I can now forget all the things from my past. I'm learning a skill and I'm very happy."
Some of that happiness comes from their faith in Jesus Christ. Both have become believers.
Amita, who founded her ministry for women in 2011, often walks through Kathmandu's slums in search of other women desperately needing the protection offered by her and Samaritan's Purse. "Every time I see them, I put myself in their situation. My heart hurts for them," she said.
She takes inspiration from the book of Isaiah, and especially chapter 61. In verse 7, Isaiah promises restoration through God: "Instead of your shame, you will receive a double portion, and instead of disgrace, you will rejoice in your inheritance. And so you will inherit a double portion in your land  and everlasting joy will be yours (NIV)."
Unfortunately, thousands of Nepali women continue to face enormous pressures to enter the sordid world of prostitution. They come to Kathmandu from rural areas, escaping abusive homes and/or grinding poverty, convinced that life in the city must be better than what they've already suffered. But when they can't find work or food or a place to live, they run out of options.
"They're trapped, so they sell their bodies," Amita says sadly. "They don't want to do it but they're desperate."
The life-transforming ministry in Kathmandu is one of several around the world with which Samaritan's Purse is a partner to protect females, and sometimes males, from the nightmare of human trafficking and similar abuses. We welcome your prayer and financial support to continue being the light of Jesus.