Canadian Dr. Jeshiah Thiessen shares a first-hand account from his work at the Kibuye Hope Hospital in Burundi.
By Dr. Jeshiah Thiessen
Canadian Dr. Jeshiah Thiessen is a general surgeon. Dr. Thiessen and his wife Julie serve at Kibuye Hope Hospital in Burundi, Africa, through World Medical Mission's Post-Residency Program.
—
Please don't think that as a surgeon in a mission hospital, my days are always filled with amazing life-saving stories. Sadly, it is quite frequent that I watch patients pass away because of late presentations of readily treatable illnesses or because of the inability to provide first world intensive care. I am often haunted by the faces of children who pass away after attempted life-saving measures. But, while this may seem quite depressing, there are stories lift my spirit. One of these stories involves a 4-year-old named Oliver. Oliver is the miracle child of the surgery service. He has lived on the surgery ward for over 2 months. Mostly in bed.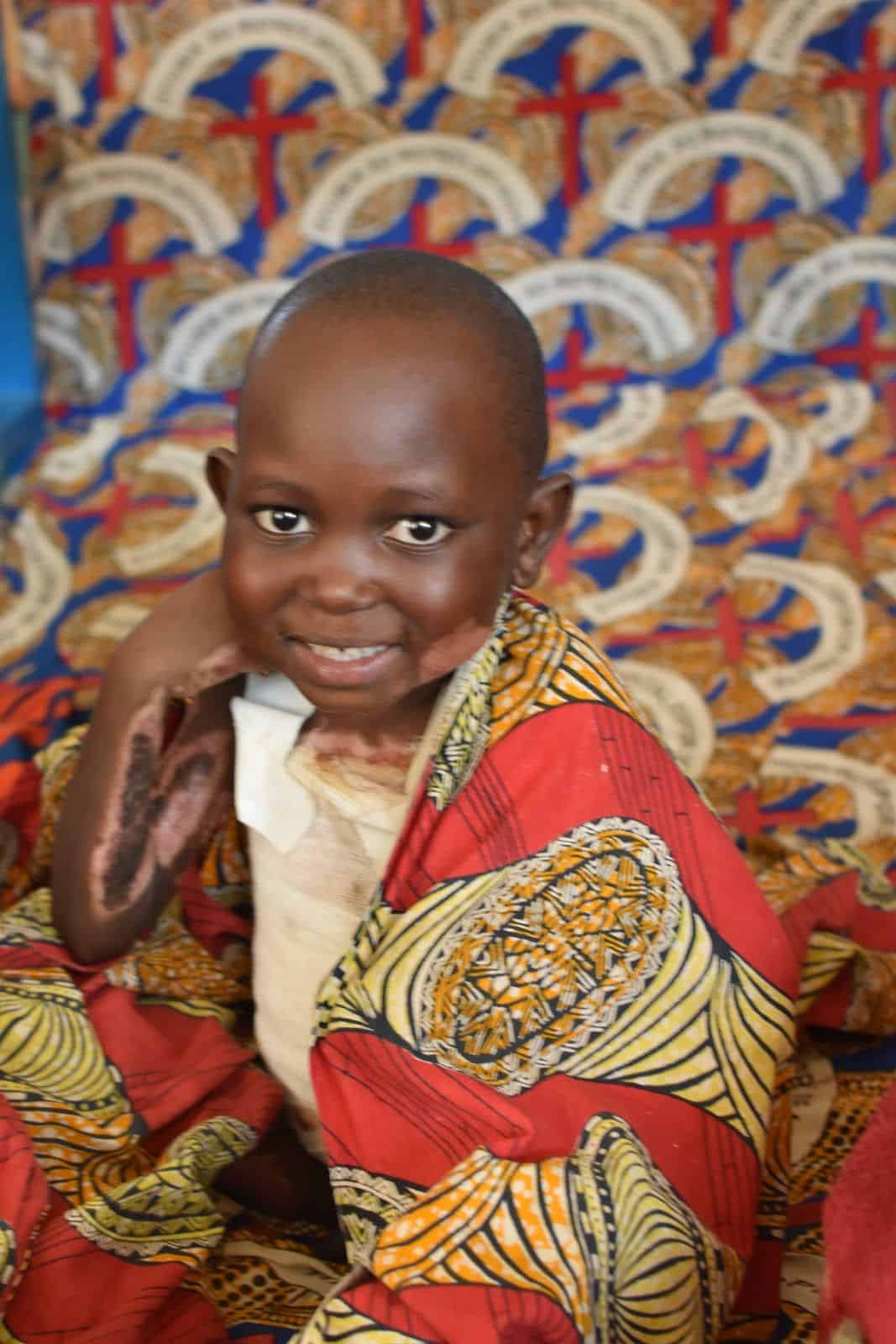 I first met Oliver when he was booked for my OR for a skin graft for extensive burns. Extensive burns make his condition sound trivial. He had fallen into a fire and sustained full thickness burns over his entire abdomen/chest, arms and upper legs. Care for this boy was going to take an incredible amount of work.
Burns are deadly for a number of reasons. They require daily dressing changes in an attempt to avoid getting infected and they are the highest calorie consuming injury, often requiring more than double the normal caloric intake. This is even higher than for trauma injuries.
He needed calories and was immediately started on our hospital's high protein porridge called Busoma. I recently ate some crêpes made with Busoma. It's actually quite good! This high protein porridge made from local ingredients, is made by our hospital to nourish our undernourished patients. If you are going to ask a body to heal, you have to give it the building blocks to fight infection and heal.
The first surgery was painstakingly long as I harvested skin from his tiny body to cover the wounds on his tiny fingers and arms. What breaks my heart is trying to explain to a child that we must cause him pain to heal him. For every wound needing covering, I had to create one roughly the same size in order to harvest the skin. Then, we cover and wait for the grafts to take hoping and praying infection doesn't kill the carefully placed skin.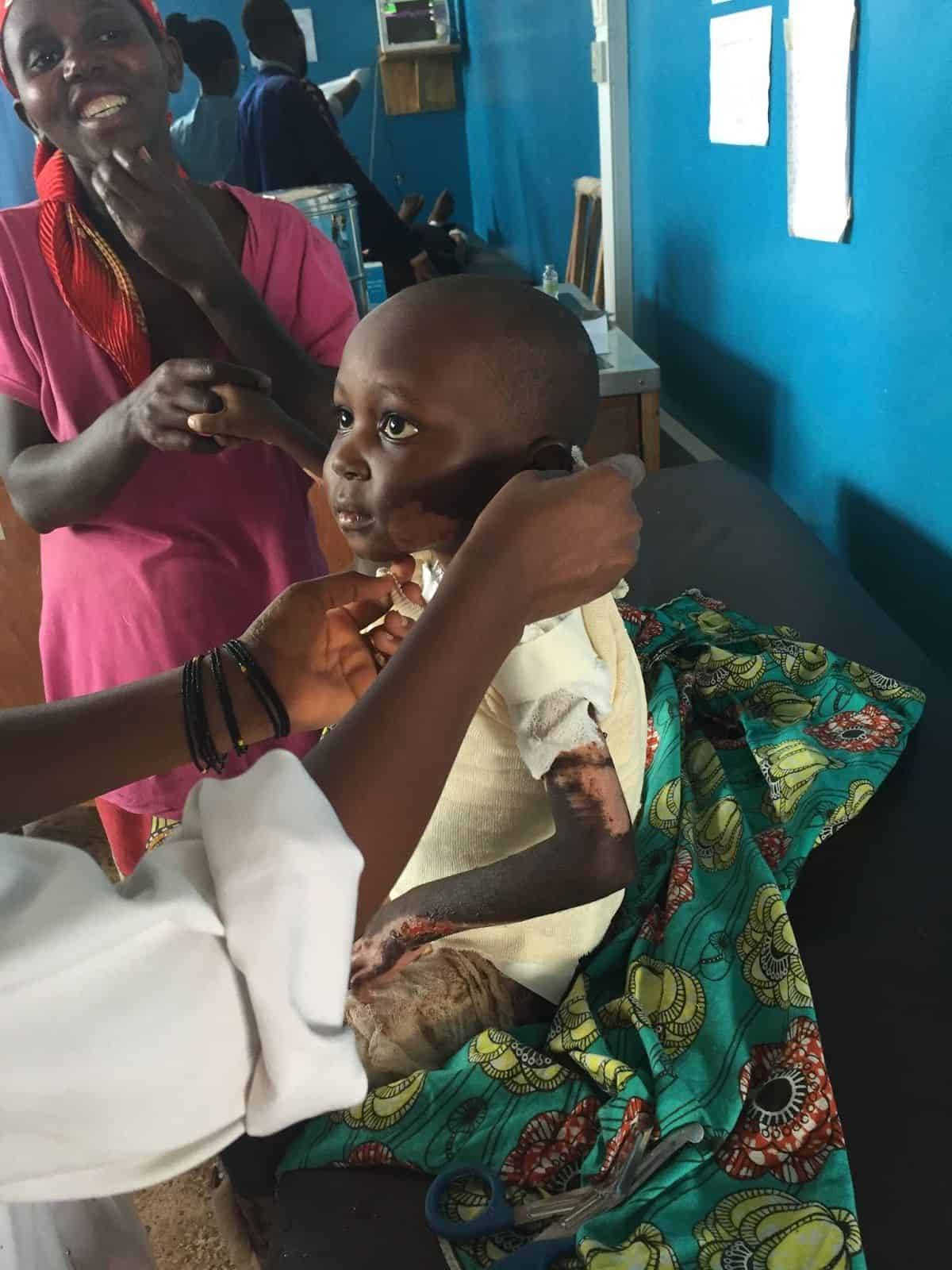 Oliver went through 3 major operations as we harvested skin from one part of his body and delicately sewed it to his wounds while undergoing daily (that's more than 70 to date) dressing changes to treat his existing wounds that were awaiting grafts or had been donor sites. Our nurses and medical students are the real heros for these challenging dressing changes.
Miraculously, Olivier survived all this. His entire body including back and extremities are either donor or recipient graft sites.
Today was extra special because I wanted to see if he could walk. He knew the drill. I hold a lollipop just out of reach and he must move to get it. But today was more challenging because I squatted 3 feet from his bed with my hand held out to help him walk to get it.
Tears welled in my eyes along with a cheering group of onlookers as Oliver bum-scootched across his bed and took the first steps I have witnessed to get that coveted lollipop. And not only that, I got a confident high-five and a fist pump with his grafted fingers, not to mention a huge smile of accomplishment.
He may be the most extensive burn patient to have survived to date. He is truly a miracle, and the work of countless hours by nurses, medical students and doctors.
"Thanks Oliver for being such an incredible encouragement."