What is Operation Christmas Child
Operation Christmas Child is a hands-on way for Canadians to bless struggling children in the developing world by filling shoeboxes with toys, hygiene items, school supplies, and other items. We collect the boxes and distribute them in the name of Jesus Christ to children living in desperate situations.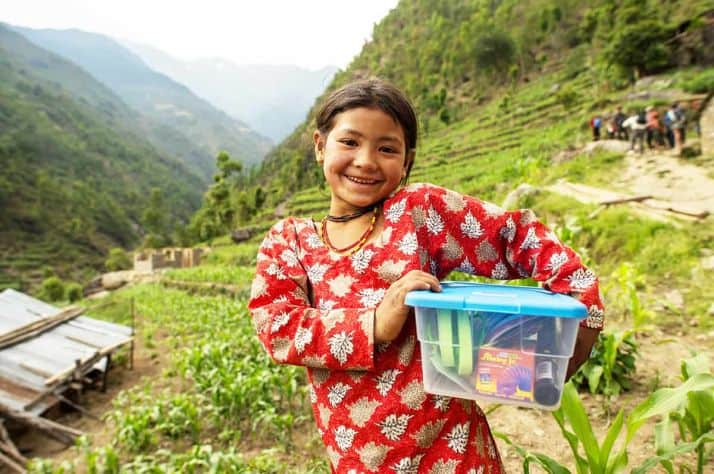 Operation Christmas Child is an important way to remind children suffering as a result of war, poverty, famine, disease, and disaster that they are loved and not forgotten. Each year, millions of shoeboxes are packed with gifts by people in Canada and nine other "sending" countries, and given to children in more than 100 "receiving" countries.
The Greatest Journey
We also equip local churches and ministry partners to teach our 12-lesson Bible study and evangelism course, The Greatest Journey. Through this teaching ministry, more than 1.8 million children a year are committing their lives to Christ. The course also equips and encourages children to share their faith with family and friends, so even more people can have a saving relationship with Jesus Christ.
All of this from a simple shoebox!
History of Operation Christmas Child
Began in 1990
Operation Christmas Child began in 1990 when Dave and Jill Cooke of Wales were watching a television report about Romanian orphans. They asked: "How can we provide some joy to the real victims—the children—who live in these situations day after day?"
Dave and Jill couldn't stop the poverty, but they could offer something – the gift of love. Together, they filled a convoy of nine trucks with medical supplies, food, clothing, and Christmas gifts for children, then drove to Romania. It marked the start of what has become the world's largest children's Christmas program.
Samaritan's Purse
As the number of donated shoeboxes grew year by year, Dave and Jill looked for a worthy organization to assume leadership of the program. In 1993, Franklin Graham, International President of Samaritan's Purse, adopted Operation Christmas Child. Later that year, Samaritan's Purse delivered its first gift-filled shoeboxes to children in war-torn Bosnia.
Since then, shoebox gifts have been delivered to more than 157 million children in over 130 countries. In 2018, Canadians donated 517,437 Operation Christmas Child shoeboxes. Each shoebox is given regardless of a child's gender, race, or religion.
When it is culturally appropriate and we have local approval to do so, at the same time children receive their shoeboxes we also offer them The Greatest Gift—a booklet telling the story of Jesus' birth, life, death, and resurrection. Through the booklet, we offer children and their families hope for not just now but for eternity.