Your donations helped bring comfort and hope to flood-weary families in northern Alberta.
Most of us will have forgotten April 26 of last year, but the residents of Fort Vermilion, Alberta can't forget. That day, the Peace River overflowed and put their community underwater. Our relief teams were there within days to help clean up.
But as with all disasters, the road to recovery is long, which is why, thanks to support from partners like you, a team remains in the community to walk alongside 26 families that still haven't been able to go home or are living in small corners of their houses. The team is helping these families navigate the heartache and complexities of trying to rebuild.
For Christmas, they delivered a live Christmas wreath to each family. Most lost all their decorations in the flood. It was a small gesture that brought hope and beauty to otherwise damaged homes. One resident, living in a shed with only a bed and woodstove for furniture, hung the wreath inside—it was all he had.
"Thank you for making us feel seen"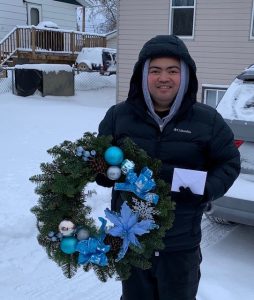 "This is a neighbor who might have fallen through the cracks, but we have had the opportunity to show him Jesus' love," said Janet, one of our team members.
After the deliveries, many families reached out to our team with the same message: thank you for making us feel seen. "It gives me hope that we still have people on this Earth that bring joy and blessings to our home," said one homeowner.
Please keep praying for these families. Situations can sometimes appear hopeless, but we do what we can to meet their needs and help them find hope in Jesus Christ.
Thank you for your prayers and support to meet urgent needs in the year to come through the work of Samaritan's Purse.