Pastor inspired by evangelism success of The Greatest Journey
Even though members of his church pack Operation Christmas Child shoeboxes annually, there was one key part of the program that was a mystery to Vincent Chan.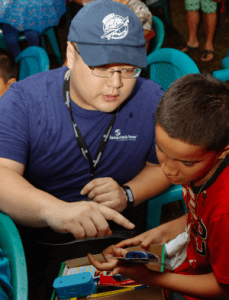 Vincent Chan is a youth pastor in Vancouver who went on an Operation Christmas Child shoebox distribution trip.
"Before this trip, I knew nothing about The Greatest Journey," said the youth pastor at Vancouver Chinese Pentecostal Church.
The trip Vincent refers to was to Costa Rica, where he joined three other Canadian pastors in helping to distribute shoeboxes, and see first-hand how God is using The Greatest Journey evangelism and discipleship program to bring children to faith in His Son.
After children receive their boxes, our church partners invite them to participate in the 12 classes that make up The Greatest Journey. Those who accept that invitation learn:
Who Christ is and why they should commit their lives to Him
How they can make their new faith an important part of their lives
Why and how they can pray for others and share their faith in Christ with them.
Since 2009, God has used The Greatest Journey to change the lives of more than two million children in developing nations. In addition, God is working through these young believers to bring their families to faith in He who is "the image of the invisible God, the firstborn over all creation" (Colossians 1:15, NKJV).
"Now that I've seen The Greatest Journey in action, I think it's the greatest thing," said Vincent, who helped hand out certificates and New Testaments at several graduation ceremonies in everything from large outdoor gymnasiums to tiny rural churches.
An opportunity to be Biblically obedient
"Seeing there is such a complete follow-up program is awesome. And the evangelistic part of The Greatest Journey is so important because the Bible tells us we need to reach out to people, train them and send them out. The Greatest Journey completes that cycle."
Armed with this new knowledge, "When I go back to my church, the first thing I'm going to tell them is the shoebox is more than just a shoebox. It's more than just putting a smile on a child's face. There's this whole evangelistic process behind it and the least we can do is pack more boxes and support The Greatest Journey to reach more children.
"The people here in Costa Rica are willing to do it; we just need to help them get started."
Vincent also has a challenge for other pastors and churches.
"If they're looking to be a part of something that's already happening and very effectively, then start packing shoeboxes and looking for ways to support The Greatest Journey. There's nothing better than to see a child receive a shoebox, be discipled, then go and share their faith."