Samaritan's Purse helps Canadian high school students build their own BioSand Filter to help them understand the value of safe water.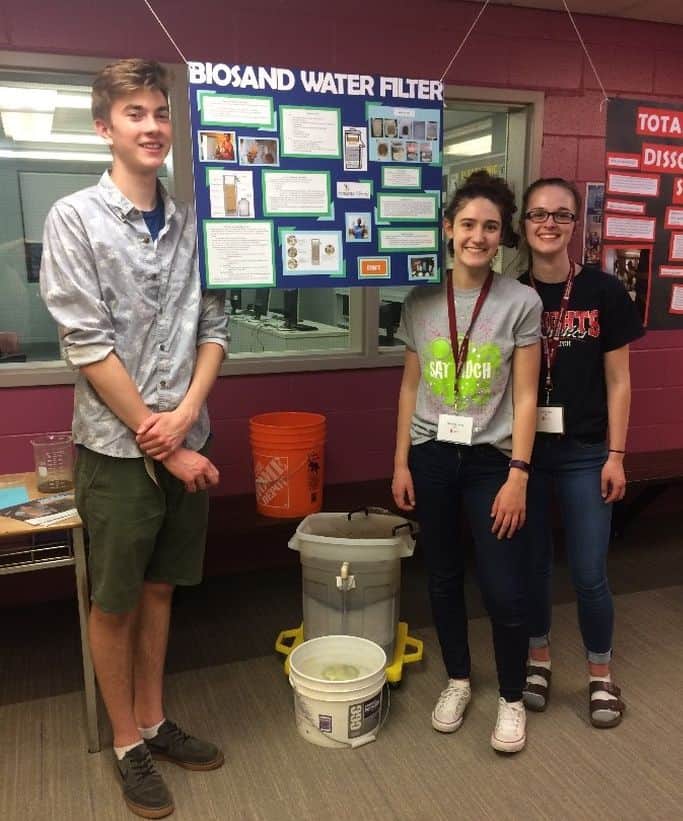 When chemistry students in Hamilton, ON, began studying a local stream's questionable water quality, their teacher decided to introduce them to a treatment method that's providing safe water for over 1.5 million people: the BioSand Filter.
The Hamilton District Christian High School students worked with Samaritan's Purse Canada to build their own filter from plastic materials. It's modelled after the concrete filter that donations from Canadians like you have enabled us to build and install in more than 250,000 homes in the developing world.
Someone—usually a child—dies every 37.5 seconds in the developing world from diarrheal diseases caused by poor water quality and sanitation. Samaritan's Purse BioSand Filters, a Canadian invention, are a scientifically proven solution.
The technology is simple: water poured into the filter passes through a naturally forming bio layer where dangerous micro-organisms are eliminated, then through carefully selected layers of sand and gravel. When the water comes out of the filter spout a few seconds later, it's entirely safe for anyone to use for drinking, bathing, and cooking.
BioSand Filters last for many years, require no power supply, and have no moving parts to wear out.
While construction of Samaritan's Purse BioSand Filters has been refined to an efficient, rapid process during the past 20 years, the students found their own process challenging.
"We made some mistakes along the way, like when we used hot glue to fasten the tubes to the plastic tub and we ended up with lots of leakage," said student Jon Spears. "We really struggled to reseal it, but we managed to do it, and it felt good to be able to resolve the problem."
Once the students finished construction and poured stream water into their filter, they saw how effective BioSand technology is in transforming dangerous, polluted water.
"Getting the test results back and learning that the filter had removed the e-coli bacteria was so rewarding," said student Jessica Star. "It was really fulfilling to see our hard work pay off."
Spears noted the project "expanded our knowledge of what is actually in water, and how important safe water is to our health. It made me appreciate our access to clean water—not just to drink, but to clean and bathe in, too."
Leon Hordyk, who teaches the chemistry class at Hamilton District Christian High, said the students' excitement and pride at constructing a working filter convinced him to keep the filter in his classroom.
"We will be sharing this story with future chemistry classes," he added.
As you partner with us to provide BioSand Filters to as many families as possible that urgently need them, you also enable us to tell them about the living water of Jesus Christ.
Millions of people need safe drinking water and, just as important, the knowledge that "whoever drinks of the water that I [Jesus] will give him will never be thirsty again. The water that I will give him will become in him a spring of water welling up to eternal life" (John 4:14, ESV).