Samaritan's Purse is committed to restoring health and hope in Cambodia and around the world.
March, 2013—When Sophie labored for hours to give birth to her first child, the 21-year-old mother's traditional birth attendants didn't recognize the danger signs. And when they finally made the decision to take her to the nearest health center two hours away, it was too late.
Sophie lost her baby. But the story didn't end there, because a year later, the young woman was pregnant again.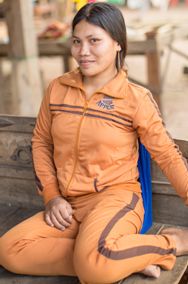 "I felt afraid," she later told us.
Sophie's husband, her parents, and attendants gathered at her house for the delivery.
Again, the labor was difficult, but the women helping Sophie insisted the baby wasn't ready yet. They didn't realize that Sophie needed to be taken to a health center immediately.
While she continued to labor, Samaritan's Purse staff arrived in Sophie's village in rural Cambodia to distribute supplementary food to malnourished children. We had been working with the mothers there to help improve nutrition and provide parenting training. Then we heard about Sophie.
Recognizing that she required emergency medical attention, our staff rushed Sophie  to the nearest health center, where three doctors worked fervently to save her child. Three times they attempted to pull the baby out. Finally, with a pull so hard that the doctor fell down, the baby came out.
Silence filled the room. It was too late. Sophie had lost her second child, too.
Our staff mourned with the young mother, who had experienced unimaginable loss in just two years. We continue to grieve the fact that Sophie is not alone in her suffering.
Did you know that the health of mothers and children in the Kratie province of Cambodia is the worst in that country? Pregnant mothers often die during childbirth, and one out of every 12 children doesn't live to their fifth birthday.
Many mothers fear death, even as they bring new life into the world.
Effects of Khmer Rouge era still linger
Samaritan's Purse is working hard to improve medical services in Cambodia. The country still faces a devastating void of hospitals and medical staff after the Khmer Rouge dictatorship in the 1970s wiped out Cambodia's infrastructure and educated professionals. Thousands of moms were also killed, preventing invaluable knowledge about motherhood from being passed down to their daughters and grand-daughters.
As the country still grieves the millions who were killed, imprisoned, enslaved, and forced to flee during the ruthless genocide—Cambodian mothers and their children continue to die without adequate medical care or life-saving knowledge.
But Canadians like you are saving lives. Donations are helping mothers like Sophie access health care, while community immunization campaigns are protecting vulnerable children from disease.
Canadian support is also funding Gospel-centered teachings in rural areas about health, hygiene, and parenting. Already, we are seeing an improvement in children's health as their mothers learn to protect their families from malnourishment.
But countless more mothers continue to experience the heart-wrenching pain of losing a child because medical care and essential knowledge about motherhood is inaccessible and unaffordable""not just in many parts of Cambodia, but across the developing world.
Please help mothers like Sophie. Your partnership will help medical care reach many communities that have never heard the Gospel, and will save lives in Jesus' name.
Our prayer is that, with your help, women like Sophie can rejoice in the joy of motherhood once again.