Samaritan's Purse is continuing the fight against Ebola in Liberia and with your donations, we are also partnering to bring relief in neighboring Sierra Leone.
March, 2015—When he received a positive diagnosis for Ebola virus, Musa Dauda imagined his lifeless body being placed in a sealed bag and delivered to an unmarked grave—the outcome for thousands of others in the West African nation of Sierra Leone.
"I lost hope at first," said Dauda, a married father of two young children.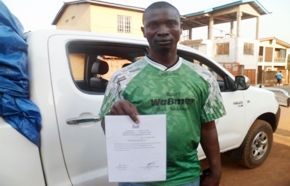 His belief that God would heal him, and the care and encouragement from his wife and hospital staff, helped him survive the often-fatal diagnosis.
However, it was a public awareness radio program, sponsored by a Samaritan's Purse-funded church, that prompted him to seek treatment early enough to keep his family and others around him safe from contracting Ebola.
Dauda, who worked as a commercial mini bus driver, became concerned when his apprentice driver, who later died from Ebola, missed work due to symptoms of the disease.
"After a day, I received a call from the medical officials that my apprentice had been diagnosed with Ebola," he said.
"At the time, the awareness about the virus was not so great. But I heard through a radio program aired [by the Samaritan's Purse partner church] that if someone contracts the virus, they should report to the nearest hospital and not allow people to touch them so that they too won't become infected."
Fewer cases reported recently
According to recent reports from the World Health Organization, the weekly number of new Ebola cases between Guinea, Sierra Leone, and Liberia—the three worst-hit nations—dipped below 100 for the first time since last June, but then climbed back up the next week to 124. Of those, Sierra Leone reported the majority—80 new cases.
After two weeks of treatment, Dauda said he was "plucked from the hands of death" and able to return home to warm reception from friends, family, and neighbors.
Although Dauda lost his job while he was sick, he was given the opportunity to work with our church partner on the Ebola prevention and control program that helped save his life.
Together with our local, longtime Operation Christmas Child church partners, Samaritan's Purse Canada is using donations from generous Canadians like you to reach out to more than 11,600 people in Sierra Leone in an effort to stop the deadly disease.
Our activities include:
Providing emergency food and non-food items to families affected by Ebola.
Supporting children orphaned by Ebola, as well as Ebola survivors.
Training pastors to provide Ebola-related spiritual and emotional counseling.
Educating the public about Ebola and distributing hygiene kits (including buckets, chlorine, and bars of soap).