Generous Canadians like you partner with Samaritan's Purse to help Calgary residents recover after vicious storm.
Canadian Relief Projects
080504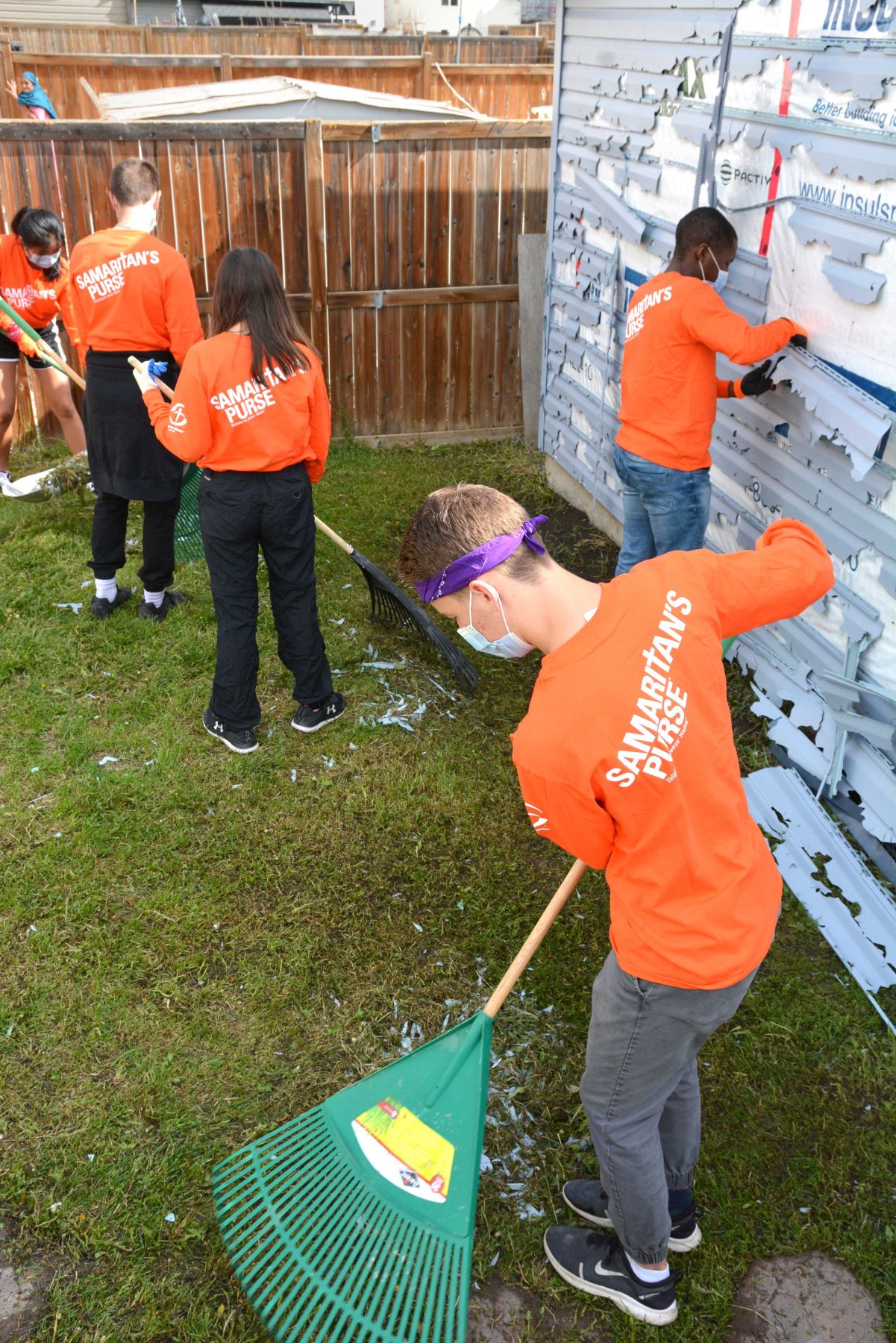 In her 12 years living in the northeast Calgary neighborhood of Saddleridge, Michelle had never experienced a storm like that one that pummeled her home in June 2020.
"My two dogs were freaking out," recalled the 48-year-old teacher as hail, much of it bigger than a golf ball, pounded hundreds of dwellings and vehicles in the city's north end. The damage was so severe and so extensive that Calgary's mayor declared the cleanup could cost home and auto insurance companies up to a billion dollars.
"The hail was so loud—and then the front windows broke, so I grabbed my laptop and phone and took the dogs to the basement," Michelle said.
When the storm finally subsided, her home had two smashed windows and vinyl siding that was left in tatters. A friend helped her put boards on the windows, but then there was the problem of cleaning up the property.
"It made a very stressful time easier to deal with"
Michelle tried to do it herself, but "after four hours, it looked like I'd barely done anything."
That's when people like you came alongside Michelle by equipping a Samaritan's Purse team to arrive at her home.  Just a few days after the storm, our disaster relief team members fanned out across the most badly damaged neighborhoods to offer help to clean up debris, including broken glass and shards of vinyl siding, and prepare the homes for repair.
As a team of orange-shirted volunteers split up to cover her front and back yards, Michelle watched and gratefully said "I'm amazed. In half-an-hour they accomplished what would have taken me days.
"It made a very stressful time easier to deal with. Thank you!"
When the work was done, Michelle received a Bible signed by all the volunteers, not just as a momento, but as something she could study and learn about a compassionate, loving God who "heals the brokenhearted and binds up their wounds" (Psalm 147:3, ESV).
Bible presentations also happened in May after financial supporters like you helped flooded homeowners in the remote northern Alberta city of Fort McMurray. Read one of those stories here.
27 volunteers served with Samaritan's Purse, helping 20 Calgary homeowners.
You can provide physical and spiritual aid to hurting people in Canada and around the world through your donations and prayers. Please partner with us so others may come to know "the steadfast love of the Lord" (Lamentations 3:22).