How Samaritan's Purse transformed an empty field in Ecuador into a fully functioning hospital.
June, 2016—In the wake of a disaster, the speed of a response often means the difference between life and death. Samaritan's Purse maintains a constant state of readiness so that when disasters strike, we can immediately mobilize a response team and bring life-saving care and supplies to those in need.
As an organization, we are always looking for ways to improve our response time and meet more needs than ever before.
On April 16, when a 7.8-magnitude earthquake struck the northern coast of Ecuador, Samaritan's Purse was prepared to respond.
Last year, we began refurbishing a DC-8 cargo plane to carry relief supplies and emergency response staff around the world. For nine months, Samaritan's Purse inspected, replaced, repaired, and refurbished every square inch of the airplane.
Pilot Bryan Hilliard said the DC-8 adds a new tool to the ministry by allowing us to respond swiftly to disasters around the world.
While the aviation team was readying the DC-8, another team was finalizing the emergency field hospital. This field hospital, built out of inflatable tents, increases our medical response capacity by functioning as a mobile unit, enabling us to place equipment and resources where they are most needed.
For more than 10 years, Samaritan's Purse has envisioned expanding its medical response capacity to include a mobile emergency field hospital. For the past three, we have actively been working to make the dream a reality.
"To deploy an emergency medical hospital is more than sending a bunch of stuff—it's human capacity, system logistics and putting an organizational plan in place. It has taken thousands of hours of training and volunteers to do this," said Ken Isaacs, vice president of programs and government relations for Samaritan's Purse.
When a main referral hospital collapsed because of the earthquake in Chone, Ecuador, it soon became apparent that there was a gap in the medical infrastructure that Samaritan's Purse could help fill to meet the medical needs of people in need of trauma care.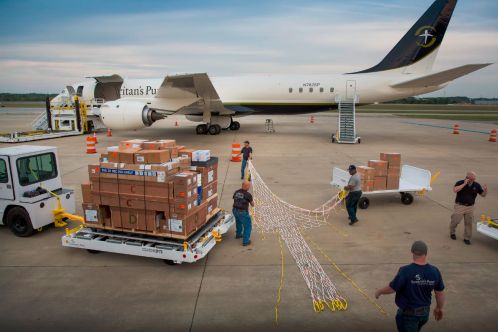 Because we had spent years preparing for a medical response like this, we were able to respond quickly and get the field hospital, medical staff and relief teams on the ground in Ecuador four days after the earthquake using the newly-refurbished DC-8.
"This plane and this hospital give us even more capacity to respond in Jesus' name around the world," said Franklin Graham, president of Samaritan's Purse. "This hospital could be the only hope for thousands of people to get health care right now."
Turning a field into a hospital
Upon arrival in Chone, the set-up crew began to unpack the unit and build the hospital. While the team had previously set up the field hospital  in training exercises, this was the first time it had been assembled with patients waiting for care.
Under the direction of Kenny Adcock, the readiness manager, everyone pitched in to help—doctors, nurses and the Ecuadorian army all worked diligently alongside the set-up team, understanding the dire situation at hand.
In just under 11 hours an empty field was transformed into a fully functioning hospital, complete with an emergency room, operating room, in-patient beds and a pharmacy.
Dr. David Gettle, who has worked alongside Samaritan's Purse for 17 years, said, "I remember being in Kosovo in 1999 when we hand-carried our instruments. To go from that to flying in a DC-8 with pallets that develop into a standing hospital within hours is a great experience. God has blessed Samaritan's Purse to be able to do that."
As soon as the hospital opened, patients began to come through the doorway. Our doctors and nurses immediately went to work, focusing on the task at-hand and adapting quickly to meet the needs of the next patient who came into the tent.
"People are seeing what needs to be done and doing it," said Justin Dennery, a nurse practitioner at the field hospital. "Everyone is working together as the hands and feet of Christ, and it's a privilege to be a part of it."
Doctors and nurses rearranged travel plans, canceled vacations and left home with less than 24 hours' notice  to make this response a reality. They did  it knowing the hours would be long, the conditions  challenging and the sleep minimal. Despite this, Judith Hoover, a nurse at the field hospital, said, "It's the most rewarding thing you can do."
Dr. Henry Smoak III, who canceled a vacation to go to Ecuador, said, "How could I not go?"
During the past two months, the medical staff treated 1,285 patients and performed 287 surgeries. They treated severe fractures, appendicitis, pressure wounds, third-degree burns, and other serious medical conditions.
Rosa Cevallos, whose brother had hip surgery at the field hospital, said, "I am thankful to God that [my brother] is alive, and because of [Samaritan's Purse] he can walk again."
Another patient, Carmen Rivadeneira, said "I feel at peace and so safe here. Everyone is so nice, so good, and so kind. I've never seen anything like it before."
Clean water, hygiene supplies and shelter
In addition to the medical response, Samaritan's Purse also provided clean water to thousands of people, built latrines, and distributed tarps, household water filters, and hygiene kits to survivors of the earthquake.
In Jama, Ecuador we installed a water filtration unit at the local hospital, which had been  forced them to rely on bottled water because  it's normal water supply was compromised after the earthquake.
"It is only a matter of time until [the bottled water] all runs out," said Alex Wann, WASH (Water, Sanitation, and Hygiene) program coordinator with Samaritan's Purse.
The water filtration unit provides clean water to some 200 people each day at the hospital and also to thousands in the community through  a public tap.
"This system will serve an immediate relief need, but it will also, Lord willing, serve a long-term need for safe drinking water in the Jama hospital," Wann said.
In Pedernales, where 80 percent of the city's structures were destroyed, we met the immediate shelter needs of more than 9,000 families and distributed 6,500 hygiene kits.
One of the recipients, Jimmy Delacruz, said the earthquake made the ground move like the ocean. It destroyed his home and forced him to live in a tent with 15 other family members. He was extremely grateful for the supplies and looked forward to having a dry place to sleep because of the tarp.
Other families like Carlos and Amada Pozo kept expressing their thanks to Samaritan's Purse. Amanda was 38 weeks pregnant and due any day with their first child. These supplies will be invaluable as they get back on their feet.
The Pozos said that seeing international organizations like Samaritan's Purse stepping up to help them in their time of need reminded them of the message of God.
"How beautiful to know you are at our side," Carlos said. "How beautiful that God has motivated you to come from faraway lands to give us a hand."
A lasting impact
Distributions are now complete and Samaritan's Purse has turned over the operations of the hospital to the Ecuadorian Ministry of Health.
Carlos Pozo thanked Samaritan's Purse for bringing aid to the people of Ecuador. He said that it gave them the strength to rise up and rebuild, knowing that they are not alone.
In the two months  following the earthquake, 157 disaster response team members and support staff served in Ecuador. Countless others worked behind the scenes to make this response possible.
As our staff return home and Ecuador rebuilds, we praise God for what He has done and will continue to do among the people of that beautiful country!