By baking and decorating cakes, siblings Gabe and Livvy raised funds to renovate a maternity ward in the Democratic Republic of the Congo.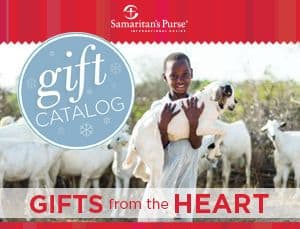 On an October day, a  mother struggled in labor in a remote area of the Democratic Republic of the Congo. The birth was a risky one, resulting in an emergency Caesarean section. The surgery was successful-both mother and daughter were fine-but had the baby girl been born several weeks earlier, she might not be alive today.
The Evangelical Medical Center in Nyankunde had just opened its brand-new maternity ward, complete with a well-equipped operating room for emergencies, so the mother got the special care she and her daughter needed.
The Nyankunde hospital had long been the main medical center and medical supplier in the region, with more than 200 beds, before a 2002 attack left the building destroyed and as many as 4,500 dead. When people began returning to the area in 2005, Samaritan's Purse started helping the hospital recover. It's been a slow process, and some buildings are still left in ruins. The maternity ward is the newest addition.
The story of how it was built starts with a 15-year-old boy, Gabe, and his 11-year-old sister, Livvy. The siblings received a Samaritan's Purse Gift Catalog a couple years ago and decided they wanted to raise $20 to buy chickens for an impoverished family overseas. But when they made more than their goal at a garage sale, they set their hearts on a far bigger goal: $35,000 to renovate a mission hospital.
To raise the funds, Livvy baked cakes and Gabe decorated them. Through many months and more than 100 cakes and 2,000 cupcakes, God blessed their effort, and they were able to meet their goal. Samaritan's Purse used their funds to rebuild the maternity ward at Nyankunde, which serves hundreds of mothers and babies every year.
"This project has really grown our faith a lot," Gabe said. "We didn't know it would snowball into this huge adventure that is going to save tons of people's lives."
A Meaningful Visit
Recently, Gabe and Livvy traveled to Nyankunde, where they celebrated the dedication of the new ward. They were there for the first baby's birth, and, in appreciation for the medical care she received, her mother named her Gabriella.
"It's super-honoring that they even knew who I was and would think to name their baby after me," Gabe said.
Three to eight babies are born in the hospital every day, and around 20 mothers need Caesarean sections every month. Because of the renovation, doctors now have access to running water to wash their hands between patients, electricity so that they can deliver babies at night, and an ultrasound unit.
"Good obstetrical care is less about technology and more about the basics of care," said Dr. Warren Cooper, a general surgeon with Samaritan's Purse at the hospital in Nyankunde. "In general, the ward is much more pleasant for recovering patients."
The hospital deals with several high-risk obstetrical cases. Some can be identified in prenatal clinics, and some are referred from other hospitals and health centers in the region. Cooper said that, throughout the years he's been in DRC, he has seen many complications resulting from inadequate obstetrical care. They range from urinary incontinence to maternal death.
"Congo has one of the highest rates of maternal mortality in the world," he said. "The new facility will not eliminate these complications, but it will certainly decrease them. This structure provides not only an opportunity for safe births, it functions as a facility which will provide training for midwives and doctors."
Along with reconstructing the maternity ward, Samaritan's Purse has also reconstructed an operating room and intensive care facilities at the hospital. We send medical supplies that the doctors use daily and have provided doctors that are able to perform top-level medical care. The hospital is still a work-in-progress, but it's already performing its most important function well.
"I think that when we deal with people who are sick and suffering and we treat them physically, that's part of sharing the Gospel with them," Cooper said. "We believe that [the maternity ward] is an essential part of sharing the love of Christ with a population which has suffered. We are grateful to Gabe and Livvy for their part. It has been an honor for us to support this project and to see the blessing it will be in the years to come."