Samaritan's Purse is committed to restoring health and hope in Cambodia and around the world.
May, 2014—Twelve-year-old Seva fills glass pop bottles with gasoline in front of her house in Dong village. The family sells them for $1.25 per liter, along with other  gas station  snacks.
Her mother, Savet, started a cassava farm by herself and works hard to help look after her family.
"I feel the same as other women in the world, the mothers," she said. "For the women who try to take care of their children, they feel that it's not easy. They feel that it's very difficult."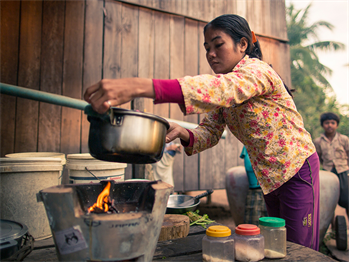 Like many women in her village, Savet used to feed her children one meal per day of whatever she could find, usually rice. A heavy workload and lack of nutrition education limited Savet's ability to provide proper food and care. This took a toll on the children, especially little Vicheko. The youngest of Seva's three brothers, the 4-year-old suffered from frequent illness.
"He was so skinny, and I didn't know why," Savet said. "When Samaritan's Purse came and measured, I realized my child was malnourished."
Savet joined our nutrition training—supported by Canadians like you—and learned simple ways to add essential foods like vegetables and proteins in meals. Now she cooks healthier dishes and has already seen a change in Vicheko.
"Right now my son looks healthy, and he is never sick or feverish like before the program," Savet said.
An alarming number of mothers and children endure illness and even lose their lives every year in rural Cambodia due to poor health. Proper nutrition in the first few years of a child's life is crucial for long-term development, but the women do not know the cause-and-effect. No one has ever told them. One bowl of rice per day was their normal. But a new normal is taking root.
As our staff works daily with mothers and children in Kratie's villages, women are offering us their trust, following our trainings and seeing vitality return to their families. Mothers like Savet are creating new, healthy habits for their families, and daughters like Seva are watching and learning.
I really want this project to spread to other villages and other people," Savet said. "I want the people in each village to grow healthy."
Please help. Your donations to Samaritan's Purse Medical Projects is the gift of health and life to mothers like Savet.