Shelter materials from Samaritan's Purse offer protection from monsoon rains in Nepal.
Rain drummed the metal roof above Padam Kumari as she shelled corn with her family in their new shelter.
They constructed it with iron sheets, pipes, wire, plastic, and other materials given to them by Samaritan's Purse. Now the family is ready to weather the monsoon season together in the mountains of Nepal.
"You have done all of these things for us," she said, standing alongside her son, granddaughter, and great granddaughter. "We are happy and appreciate you."
Hundreds of thousands of families like Padam's live in rural, hard-to-reach areas of Nepal and lost their homes in April 2016's devastating earthquake. Many of them also lost their livelihoods.
"A lot of people don't have the means to build their homes," Samaritan's Purse shelter coordinator, Neyer Torredor, said. "I have heard of people selling their kidneys just trying to rebuild their houses, and that's beyond what I can take."
With no resources and heavy rains approaching, it is a race against time for families to find protection from the elements.
"People are sleeping under tents and tarps, and it's not just one person; it's an entire family with the children," Neyer said. "It's really important for us to come fast and distribute as fast as we can."
Samaritan's Purse has made shelter a top priority of our work in Nepal. We are providing materials to 25,000 families in need-most living in remote, mountain villages. Full shelter kits consist of rounded steel pipes, bundles of corrugated galvanized iron (CGI), wire, tarpaulin, gloves, and a toolkit. Partial shelter kits include CGI, tarpaulin, wire, gloves, and nails.
Willing to walk miles
Men, women, and even small children walk for hours down rugged paths, across rivers, and along landslide-prone roads to get the materials.
"People have to walk a lot of miles-five, six, eight miles sometimes-carrying their CGI and their full kits back to their homes," Neyer said. "There are people coming-60, 70 years old-they can't carry all that CGI, so they bring their grandkids together as a family."
For Padam's family, it took an entire day to transport their full shelter kit down the rocky road, across the river, and up the muddy path to their land, tucked away on the side of a mountain. They carried the supplies on foot for the latter part of the steep journey.
It's families such as these that our teams are focused on reaching-both to help meet their physical needs and to let them know they aren't forgotten.
"We are just here to serve and to help," Neyer said.
Our staff also holds training sessions for communities to learn how to most effectively use the materials and also to gain knowledge on earthquake-resistant construction.
"We do the training so that people know exactly what to do with this. We want a solid structure so it can withstand winds and rain," Neyer said. "Usually they get together and talk about it after the trainings, which is really neat."
Padam said her family plans to stay in their new shelter for years to come. And as the rain continued to fall outside on the tall grass and down the dirt path to the remains of their old home, they all stayed dry inside.
"We are happy to have gotten help," her son, Hum, said. "We thank all of you."
Prayer requests for staff and Nepali people
Please continue to pray for our staff and for the people of Nepal, about 95 percent of whom identify as Hindus, Buddhists or Muslims. Pastor "L" has been a Christian minister for 14 years in Nepal, and some of his family and church members have served with Samaritan's Purse in recent months. "The earthquake has opened doors for ministry," he said. "Most of the people who went and helped with distributions were Christians. So, now, [in] the places we were not allowed to go and that were not open, people are open and welcoming."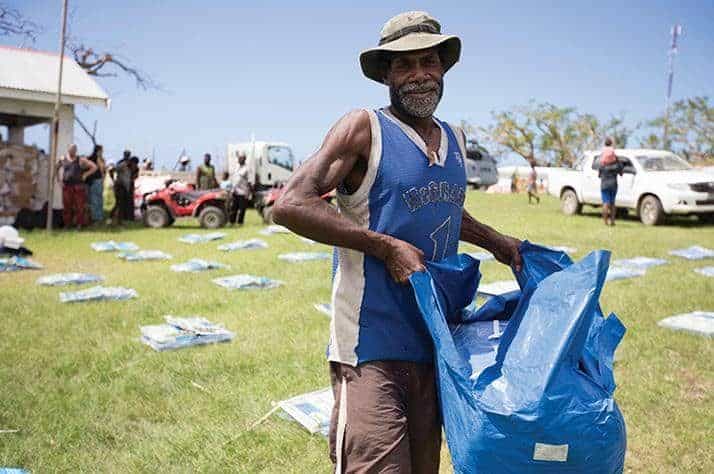 Disaster Relief
Samaritan's Purse responds to humanitarian crises with physical aid and a message of spiritual hope for victims of natural disasters, famine, poverty, and war. Your gift will allow us to share Jesus' love through clean water, food, shelter, medical supplies, personnel, and other aid.
Other Ways to Donate
+1-800-663-6500
Monday through Friday; 8:00 a.m. to 4:30 p.m. Mountain time
Samaritan's Purse Canada
20 Hopewell Way NE
Calgary, Alberta, T3J 5H5