In partnership with local churches, Samaritan's Purse is reaching out to flood victims in Bosnia and Serbia.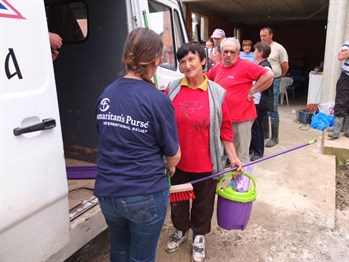 May, 2014—Stoja Anicic was in total shock when the floodwaters reached her home where she was taking care of her two-year-old granddaughter Nevena. She grabbed her granddaughter and climbed in the back of a jeep to flee. The water was already at knee-height. It went on to rise as high as her home's windows—nearly three meters  in some places.
"The worst moment was when I walked in after the flood and saw everything had been destroyed," she said.
Stoja lives in Prijedor, Bosnia, in a small community nicknamed 'Rupa' or 'hole' because the area is a former rock quarry. Most residents fled there from Sarajevo during the Bosnian War.
"This is the second time we have lost everything and are starting from zero," said Stoja. All of the neighborhood's 24 homes were flooded, and many families reported barely escaping with their lives.
"I was baking a pie," said Milka Males who also lives in the area. "I was putting one in the oven and making the other, when all of a sudden there was water around my feet." Forced to flee in a matter of minutes, her family was unable to save anything except what they were wearing.
Nearly everyone in the community has started cleaning up their homes, and thanks to the generosity of people like you, Samaritan's Purse distributed much-needed cleaning kits to Stoja, Milka, and their neighbors. Buckets, cloths, gloves, brooms, dish soap, sponges, garbage bags, scrub brushes, disinfectants, and towels were among the items provided.
The distribution was done together with one of our local partners: Pastor Danko Malesevic. His small church demonstrates faith in action by reaching out to those in need through a Monday to Friday lunch program, Operation Christmas Child, and now disaster relief.
With support from Samaritan's Purse, Pastor Danko will continue to provide Stoja's and Milka's community with cleaning supplies and other basic items in the days and weeks to come.
Despite the destruction around her, Stoja invited our Disaster Assistance Response Team (DART) over for coffee, which she was preparing over a wood stove that had been rescued from the flood.
"I'll never forget that moment," said Canadian DART member Grace Van Mil. "These people have lost so much, but they took the time to offer us coffee and friendship."
Stoja also offered a word of hope. "The house is still standing," she told Grace. "God will provide so it's filled up again."
Thanks to your generosity, we are able to get emergency supplies and tools into the hands of those who need it most in disaster situations.
Please continue to give toward and pray for our work with flood victims in Serbia and Bosnia.
Read blog posts from Grace Van Mil, a Samaritan's Purse DART member reporting from the Balkans.