Your donations are providing food and emergency supplies to those desperately in need.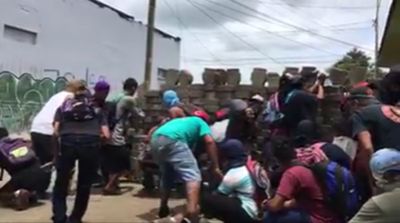 At least 450 people have died in violent protests in Nicaragua since last spring. The violence was triggered after the government announced proposed reforms to the social security system. Road blocks across the country all but stopped the flow of food and other necessities throughout the country, and many families were left without income as markets and factories closed.
"Hate, violence, and disappearances are causing panic and uncertainty," says Samaritan's Purse Canada International Disaster Response Manager David Bock. "Food hampers as well as moral and spiritual support are being provided to hundreds of families during this time of suffering and instability."
A local church partner in Nicaragua is helping distribute emergency supplies while also mobilizing church leaders and members to provide for the needs of those under their care as a result of this crisis.
"We are sharing the message of love, praying for the sick and providing for basic needs during this time of crisis," says Bock.
Road blocks across the country have affected transport routes to access markets for both buyers and sellers and factories.
"We are sharing the message of love, praying for the sick and providing for basic needs during this time of crisis."
Spiritual support and food aid are being provided to more than 800 marginalized households impacting thousands.
"In the area where we are providing emergency aid, the general population is going hungry, which affects children and the elderly most severely," says Bock.
Samaritan's Purse Canada is committed to working through our church partners in Nicaragua to show the love of Christ and meet urgent, physical needs in areas of crisis.
"I thank the Lord for helping us with food baskets," says a father of four in Nandasmo, Nicaragua. "Since April when the protests started, the situation has escalated really fast and the economic situation is very bad. This support gives us some relief and also hope for the future. May God bless all the people who made this possible."
Through just one of our church partners, the Gospel was presented to more than 1,600 people, and all the beneficiaries received the book of Romans.
One pastor said that as they distributed the 64-pound food baskets, many people were overcome with gratitude thanking God. "The food was a great help for these families who spent several days eating little and going hungry," said the pastor. "The enthusiasm of children and adults filled us with joy, and this is only possible through love. As the scripture says, 'For I was hungry, and you gave me something to eat, I was thirsty, and you gave me something to drink.' Thanks to our brothers and sisters from Samaritan´s Purse, for all your love to the people of Nicaragua."
Samaritan's Purse specializes in meeting critical needs for victims of conflict, natural disaster, famine, and epidemics throughout the world, often working through local ministry partners to do so. We provide emergency food, water, shelter, medical care, and other assistance in the Name of Jesus Christ.