Six-member team offering hope, help in "long and exhausting battle"
Canadian Relief Projects
080504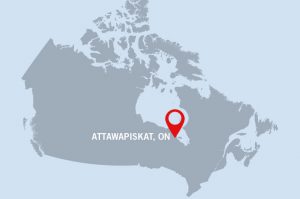 The isolated northern Ontario community of Attawapiskat is confronting a significant COVID-19 outbreak that's making life extremely difficult for residents.
The Nishnawbe Aski First Nation has reached out for assistance, and with the support of partners like you, Samaritan's Purse is responding.
"We are honored to come alongside the people of Attawapiskat as they continue to fight what has been a long and exhausting battle against COVID," said Brent Davis, Samaritan's Purse's director of Canadian ministry projects.
"We pray that our team will be a source of hope and strength in the community."
Attawapiskat health system stretched
Attawapiskat's health system is stretched, and limited housing means there are few places where COVID-19 patients can isolate. People are under tremendous strain and dealing with the outbreak is affecting their mental health.
Working under the First Nation's leadership, we have sent six Samaritan's Purse team members, plus supplies, to Attawapiskat.
We are using our COVID response expertise (from helping to staff an emergency field hospital last year in Cremona, Italy) and the experience gained in supporting frontline workers earlier this year during a COVID emergency in Thunder Bay, Ontario. All this is helping team members to support Attawapiskat's first responders and the community's isolation center.
Two crisis-trained Rapid Response Team chaplains from our sister organization, the Billy Graham Evangelistic Association, have also deployed to offer spiritual and emotional support to residents and first responders.
God can use your prayers and financial partnership to bring physical and emotional help to Attawapiskat and other Canadian communities facing times of crisis. Please join us in this vital Kingdom work.