The Salvation Army is well-known for its service to humanity worldwide. The Army's Prairie Division is working this summer in several flood-damaged communities including Melville, Saskatchewan, where it is partnering with Samaritan's Purse in its response to residents ravaged by the worst flood in their history.
The white Salvation Army "Community Response Unit" contrasted nicely with the black Samaritan's Purse "Disaster Relief Unit" at the Horizon Credit Union Center in Melville, SK. The Army's  self-contained food preparation facility in a van fed  flood volunteers serving with Samaritan's Purse and other organizations.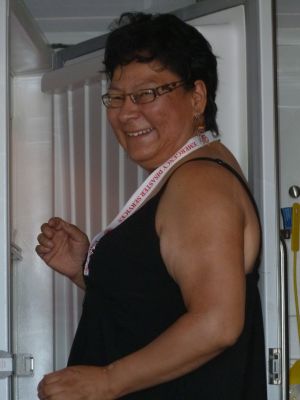 The response unit seemed to have everything for which a cook could wish. Gwyn Peters (right) doesn't consider herself a cook, but she loves to serve. She deferred to her veteran colleague, Sylvia, as the cooking expert.
It was over a year ago when Gwyn walked into the Salvation Army office in Regina and applied to volunteer.
"I'm used to dealing with crises," laughed the mother of three. She's received training in disaster assistance, and had a chance to help in High River, AB during the 2013 floods.  The Army had deployed eight Community Response Units after the worst flood disaster in Alberta's history.
Feeding hungry volunteers is a critical part of disaster relief work. It's time-consuming and requires careful planning and execution. Richard Parr, a 30-year veteran with the Army led  a team that started work at 10:30 a.m. every day and finished at 7:00 p.m.
At lunch and supper, Gwyn greeted  her patrons with a friendly smile as she passed out plates of roast ham and scalloped potatoes freshly prepared by herself and colleague Sylvia. Weary, sweaty, orange-clad Samaritan's Purse volunteers just back from cleaning out wet basements lined up for their mid-day or evening meal and a refreshing drink.
An easy smile and cheerful laughter were  a refreshing part of the service.
"Even if you're not hungry, come and we'll feed you anyway" chuckled Gwyn. Requests for seconds were  never refused.