A Samaritan's Purse team is working in Cambodia to provide flood victims with clean water and hygiene items.
by Whitney Conard, who lives in Cambodia with her husband, Andrew, a water, sanitation, and hygiene program manager for Samaritan's Purse.
September, 2014—Rainy season began in early August here in Cambodia. The air itself changes into a thick, wet blanket that coats everything. It sprinkles off and on throughout the morning and by afternoon, it turns into torrential downpours. It's rain like you've never seen in North America.
Yesterday afternoon, I popped over to my neighbor's house to have a cup of tea. She lives right next to me, but for two hours, I couldn't go back to my house because the rain was so heavy. We sat on the veranda, sipped our milky tea that quickly cooled in the damp weather, and watched her two boys splashing around. Our Cambodian neighbors drove in and out of the driveway, on their way to errands, apparently more used to being sopping wet than I'll ever be.
In rainy season, you quickly get used to the idea of being a bit wet and muddy if you go outdoors at all  (and sometimes indoors too). If a wind whips up a heavy rain at the right angle, the water floods right in under our front door. Luckily, our floors are tile, and it just turns into a good excuse to mop.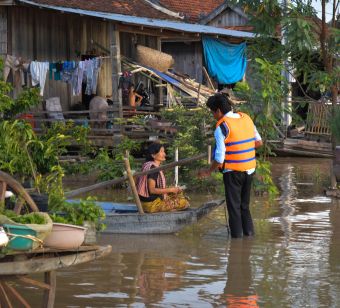 I love rainy season because of the intense relief it brings after the awful temperatures of hot season. The bulk of May saw highs around 43 º C (109 º F) every day. But now the weather is like balm on my parched soul. The evenings turn noisy as frogs and crickets croak and chirp. And it gets almost chilly—the kind of damp weather you might experience during a cool spring rain.
But the rain also brings devastation. Already in Cambodia this rainy season, six people have died, and more than 4,000 families have been displaced. Although it's not nearly as bad as last year's rains (when the yard around our house flooded in knee-deep water for a week) people are still seeing their homes and livelihoods ripped away, as river water spills over the banks and crop fields flood.
My husband recently left to drive to the opposite corner of Cambodia to Kratie, a province even poorer and more destitute than the one we live in. Samaritan's Purse activated its emergency relief teams to help people who have been displaced by the flooding. Andrew will lead the water, sanitation, and hygiene assessment and ensure people have clean water to drink and toilets to use.
Disease can spread rapidly in floods. People are forced to drink from water sources contaminated with floodwater and to use the outdoors as their toilet, as bathrooms are flooded and unusable. They also cannot wash their hands or perform basic hygiene activities because they may not have access to any water but floodwater.
I really can't imagine having a home wiped away by water or losing my child to drowning. Snakebites and electrocutions also cause deaths when power lines become submerged in floodwater and poisonous snakes are driven from their homes. So if you think of Cambodia or Andrew, or maybe even see rain in your own town, please pray for him and his team as they work to help those who need it.