Samaritan's Purse volunteer teams serve PEI residents in the wake of Hurricane Fiona.
Canadian Relief Projects
080504
As Dave watches the team of Samaritan's Purse volunteers start work on his property, a tear rolls down his face.
"I'm a little overwhelmed right now," he said quietly.
The volunteers' brilliant orange t-shirts stand out against the massive tree trunks scattered around Dave's small Prince Edward Island home.
Just over two weeks ago, on Sept. 24, this is where he endured Hurricane Fiona's fury. "It was terrifying," he said.
Like many islanders, Dave did what he could to prepare, securing loose items around his property, stocking water, and checking on his family members. But when the storm's 130 km/h winds struck in the middle of the night, little could have prepared him for the experience. "I didn't sleep at all that night. Trees were coming down all around."
By God's grace, the giant trees barely missed smashing through Dave's home, but their falls left him with a monumental clean-up job. Dave, a waiter and restaurant manager by profession, started to tackle the task with a small battery-powered chainsaw, but the fallen trees were too large and too many.
Then the Samaritan's Purse volunteer team arrived to help in Jesus' Name. Equipped from our Disaster Relief Unit—stationed at nearby Cornerstone Baptist Church—the team brought chainsaws, rakes, a skid steer, and a lot of muscle power.
With much care and compassion, they restored Dave's property—a property that has been in his family for more than 60 years.
"To have people come and do this is just overwhelming," Dave said again. "It takes a real load off of me."
Dave is one of over 400 homeowners Samaritan's Purse is serving in Prince Edward Island because of prayers and support like yours. This makes it one of the largest Canadian responses in the ministry's history. The teams will continue to serve for many more weeks.
"The amount of tree damage everywhere is beyond comprehension," said Percy, who lives just down the road from Dave and is also receiving help from the Samaritan's Purse teams.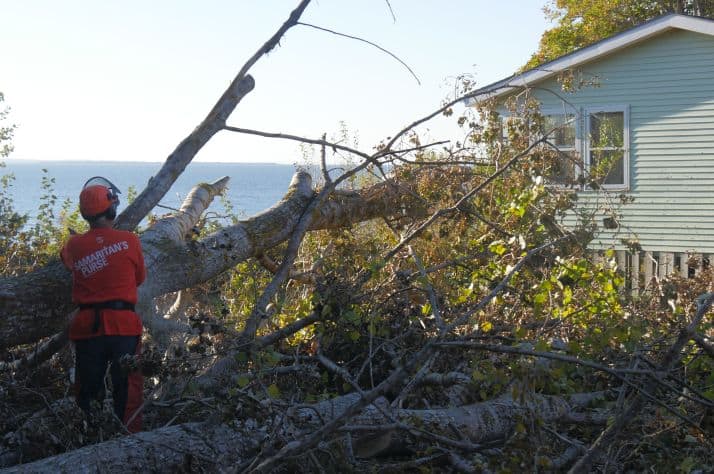 As the volunteers finished the work at Dave's property, they presented him with a Bible signed by all the team members. "I can't thank you enough," Dave responded, filled with emotion. The team prayed for him as they left.
This vital work is being done in the Name of Jesus and opening to share the hope of His Good News. "Oh, give thanks to the Lord! Call upon His name; Make known His deeds among the peoples!" (Psalm 105:1).
Your prayers and support are needed to continue to make His Name known and show the residents of Prince Edward Island that they are cared for, loved, and not forgotten.