Woman who received a shoebox as a child in eastern Europe now how the opportunity to support the organization that helped her better understand what it means to love and give.
Written by Damaris Vezentan
When it comes to giving, Canadians are known to be quietly generous year-round. Being generous is even more important over the holiday season, especially when it comes to giving to children in need. My own story is living proof of the fact that a small act of generosity can have a huge impact on the course of a child's life.
I was born and raised in what was then, communist Romania. When I was nine years old my parents took us to a church celebration filled with happy people handing out shoeboxes from Operation Christmas Child, a program operated by Samaritan's Purse. When it finally came time for me to receive my shoebox, a volunteer handed me a gold, metal box. I remember feeling so overwhelmed by the fact that someone who didn't even know me had taken the time to send me a gift. Little did I know, that gold box would truly change my life — my outlook and entire perspective.
I found a quiet spot and opened the box. I gasped and closed it, quickly. I opened it and closed the lid again. I didn't want that feeling of amazement to be lost so I waited several days to examine the contents.
Among the contents was a porcelain doll that had braids just like mine, a bar of soap, a little journal and a package of beautiful paper napkins. These were all items that even if you had the money, you would've never had access to them in communist Romania. Then, I found the photograph of the family who had packed the gold box for me. I realized that these people cared enough to pack a box that seemed to be packed just for me. I wondered, 'what makes someone's heart so good that they want to give to people they don't even know?"
Years later, I was able to answer my own question. When you love, you give-especially over the holiday season. What many people don't realize is that for many of the children who receive Operation Christmas Child shoeboxes, this is often the very first gift they've ever received. I learned that it's not how much you have, but how much you give to others.
At age 15, I moved to Canada and quickly became an Operation Christmas Child volunteer and advocate of their amazing work. One day, while at a shoebox processing center in Kitchener-Waterloo, Ontario a fellow volunteer asked me why I chose to volunteer with the organization. Sharing my answer, "because I received a shoebox as a child" changed my life, once again.
Shortly afterwards, I was contacted by Samaritan's Purse and asked if I'd be willing to share my story publicly. I didn't know what that would look like but I agreed; hoping my story would inspire others to give to the many children in need around the world. It's been an amazing and challenging journey, but I've been very glad to have the opportunity to tell Canadians how a simple gift-filled shoebox can transform a life.
Last September, I was given the opportunity to go on a Samaritan's Purse trip to the African nation of Senegal. While there, my cycle of giving was completed as I was able to personally distribute shoeboxes that my own children had packed.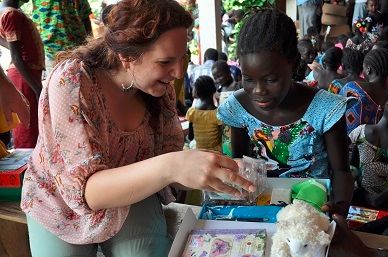 It was the most amazing experience to see the looks on the children's faces as they discovered all of the treasures that Canadians had sent for them-people who didn't even know them.
So, whether you've never packed a shoebox before or have been an Operation Christmas Child donor before, I hope my story has encouraged you to participate again this year. The items in the boxes may be small and common for us, here in Canada, but when I think of the millions of children that are still in poverty it breaks my heart and I hope it breaks yours too.