Samaritan's Purse is responding to a catastrophic earthquake that struck Nepal. We are providing relief items such as shelter materials, clean water supplies, and hygiene and cooking kits. Our teams work in the Name of Jesus, ministering with care and compassion to those who are suffering.
May, 2015—Recently Samaritan's Purse flew a cargo jet loaded with winter clothing, blankets, hot water bottles, and solar lamps to Nepal for 5,000 households. We transported stoves to Nepal for more than 1,600 families. Meanwhile, we are also continuing other on-the-ground relief work, such as providing shelter materials and hygiene kits. In addition, we are continuing to work with a Christian partner to help Nepalese people in rural villages get medical aid in Kathmandu, Nepal's capital city.
Back-to-back earthquakes have left Nepal reeling. The loss of life is unprecedented in the country, millions of people are displaced, and the emotional impact is immeasurable.
Samaritan's Purse responded immediately, rushing aid to Nepal after the initial catastrophic quake on April 25, 2015. We have been meeting urgent needs for survivors both in the Kathmandu Valley and rural mountain villages ever since. Thanks to generous support and prayers, we have already provided emergency relief to thousands.
Learn how Samaritan's Purse is providing homes to the vulnerable after Nepal's earthquake
These Himalayan people are braving their first winter since the devastating earthquake last April, and thousands of them scarcely have enough to survive. Another challenge that they face is a fuel crisis (caused by a blockade created by India) is crippling their supply chain for basic necessities.
"You are the first ones to come help us," one man said. "People who live down in the valley along the main road got help right away, but no one comes up here. Thank you for coming."
Our work continues. Here are the main ways we are bringing help and hope to the people of Nepal.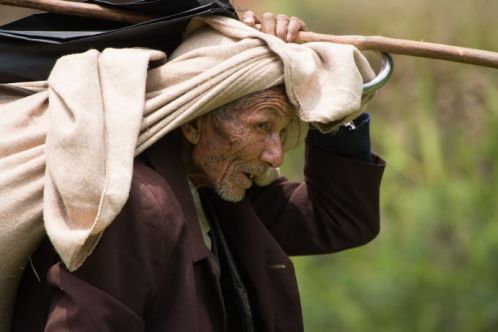 Food
When the houses crumbled, food was buried. Markets closed, and gardens were ruined. Survivors told us stories of scavenging through the rubble, walking for hours to nearby communities, or simply not eating at all. Our team is helping to fill the gap in food shortage by providing families with a week`s supply of rice, lentils, salt, and oil.
Radhika Ghale is a teacher at a primary school in rural Nepal. Her home was heavily damaged by the earthquake, but she was thankful that her family was safe and that none of the 400 students at her school were injured.
"We are very grateful to Samaritan`s Purse for the food and blankets," Radhika said. "It means a lot to my family. This is a difficult time for all of us."
After an afternoon thunderstorm passed, Radhika and her son, Oasis, balanced the rice bag on their motor scooter and drove away.
Shelter
A woman named Mithu pointed to a quake-damaged home made of brick and stone on the hillside.
"That"s my house," she said. "We can`t live there anymore. It`s not safe for my children."
Mithu said that after the earthquake, 17 families banded together, creating a community tent out of tarps, blankets, and pieces of plastic. For 11 days, they slept outside and shared what little food they had, but now most of the food was gone.
"I am so happy that you came to help us," Mithu said. "It gives us hope."
With the monsoon season rapidly approaching, shelter materials are a critical need for homeless families. Many are spending nights outside in the rain and days unprotected from the sun. Samaritan's Purse is working to distribute emergency shelter materials to 50,000 families whose homes were lost or damaged in the earthquake.
Blankets
Nights can get cold in the mountains, especially for the innumerable families now sleeping under tattered tents or completely exposed to the elements. As we distribute food, shelter, and other relief items, our teams are also giving several blankets to each family.
Kitchen kits
The earthquake took everything from thousands of families, including basic items like plates, cups, and silverware. Our sturdy kitchen kits replace some of what was lost, and provide families with a means to cook the food we distribute. Having something tangible also provides hope for people who lost everything.
Clean water and hygiene supplies
An estimated 4.2 million Nepalese need clean water, sanitation, and hygiene assistance due to the earthquake. One family showed us a half-filled bucket of dirty water and said it was all they had to drink.
We are meeting urgent needs by distributing hygiene kits that include water purification tablets, jerry cans, soap, and other items. Our team is also training thousands of people on proper hygiene and sanitation practices and water purification.
Thank you for your partnership in this vital work. Please continue to pray for the people of Nepal.