Help for families in the ashes of British Columbia wildfires.
British Columbia Wildfires
080689
"It all happened so quickly," Kenny Wong said as he looked over what was once his home and business.
For 38 years, Kenny and his wife, Frieda, had run their business, Jade Springs, just off Highway 1 outside of Lytton, B.C.. It was his home, where he raised his two children, and his livelihood, where he owned a restaurant, grocery store, and campground.
Now it's all gone—burned in the fast-moving Lytton wildfire that also destroyed much of the town on June 30.
"It started as a beautiful day," Margaret Ho, Kenny's daughter, remembers. She and her family had been visiting her parents and were leaving that morning. As they said goodbye, "there was no sense of danger," Margaret recalls.
But all that changed late in the afternoon.
"There wasn't time to grab anything"
Kenny remembers the first hint of trouble coming as Lytton residents, many long-term customers, began arriving in a panic at his home and store, just up the hill from the village.
"The town is on fire."
"'The town is on fire,' they told me," Kenny said. He had experienced close calls with wildfires in the past but they had always stopped. "I wasn't worried at first," he said.
Instead, Kenny focused on doing what he is known for: caring for others. "I had my staff start giving out water to people," Kenny reflected. "We were telling them that it was going to be ok."
Then the fire came, rushing in from two directions. "There wasn't time to grab anything: no wallet, no cellphone, nothing," Kenny said. "My wife got her purse. I just had the clothes I was wearing."
Kenny is battling late-stage cancer and didn't even have time to grab his medication.  They just had to go.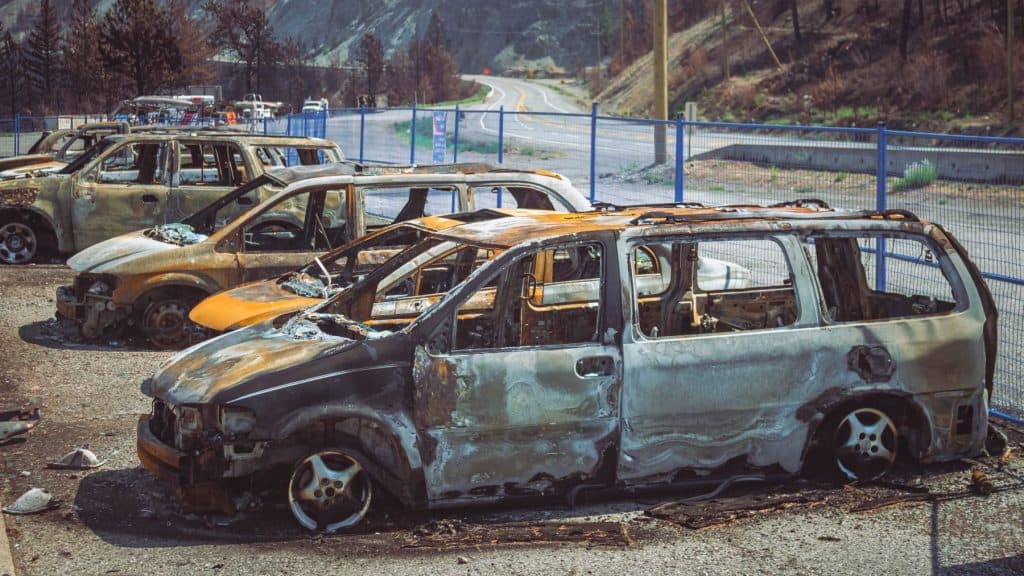 "God was looking out for me"
Kenny, Frieda, and their dog, Lenlen, got into an old, battered pick-up truck that the day before wasn't even running until Kenny felt a prompting to get it repaired.
"The mechanic came and fixed the truck that morning. That saved my life," Kenny said. "I believe God was looking out for me."
As the small family drove away from the flames, they saw the fire catch their store and then engulf their home. "It's heartbreaking," said Margaret. "All that hard work and all those good memories—now the fire has taken everything."
"He has always made a path for us"
But as Kenny, Freida, and Margaret know they are not alone. They are putting their trust in God: "He has always made a path for us," Margaret said.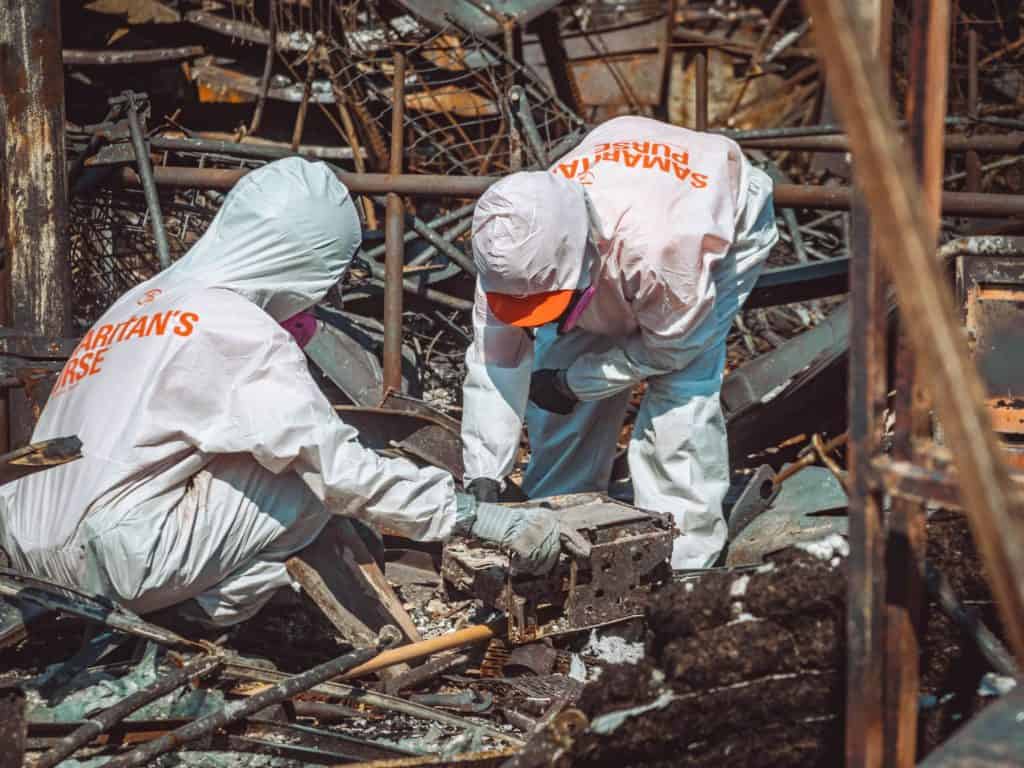 And part of how they are seeing that is through the prayers and support of partners like you who sent a Samaritan's Purse disaster relief team to serve throughout the fire-ravaged region.
The team of volunteers and staff—with a convoy of equipment—arrived in the B.C. Interior during one of the worst wildfire seasons in years.
When Margaret went looking for help, someone told her she should call Samaritan's Purse. Within a few days, a team met her and her dad at their property.
In near 40 degrees Celsius heat, they donned full respirators and head-to-toe protective suits to wade into the ashes in search of anything that might have survived the flames.
"It brings back hope"
Some of the items Kenny hoped to find were six silver necklaces, each with a cross. He had bought them to give to family members on their wedding days. The team sifted and searched, and out of the destruction pulled two from the debris. "Thank you so much," Kenny said.
The team also recovered some Olympic coins, and jewelry Kenny had bought for his wife. "These people do a really, really good job," Kenny said. With every item coming out of the ashes, a small smile grew across his face.
"We are so grateful for everybody's help," Margaret said. "When my dad came to Canada from Hong Kong, he only had five dollars. He went through a lot of hardships to build what we did, so for Samaritan's Purse to help salvage what we could get back, it brings back hope."
When the team members finished their work, they presented Margaret and Kenny each with a Bible, signed by the team, and prayed for them as they begin a long recovery.
"We might have a land of ashes, but we have hope to rebuild," Margaret said.
Please continue to pray for Kenny, Margaret, and hundreds of other homeowners in B.C. who are returning to burned homes or still waiting to. Pray also for the first responders battling over 200 wildfires and thousands of people who are evacuated. Ask God to help them bring hope and compassion in Jesus' Name to many amid these extremely difficult days.
"Lord…be a rock of refuge for me, where I can always go" (Psalm 71:3, HCSB).