Tournaments raise funds for Samaritan's Purse water programs.
September, 2014—A love of hockey and some Canadian water filter ingenuity are helping provide clean water in developing countries around the world through Samaritan's Purse.
Two Hockey 4 Hope floor hockey tournament fundraisers were held this year with proceeds going to Samaritan's Purse water programs. Those programs provide clean water for drinking, cleaning, and cooking.
Tim Pippus, a pastor at Hope For Life Christian Fellowship in Calgary, organized the fundraiser with his father, brother, and a friend. He said they're passionate about philanthropy—and hockey""and have been playing in floor hockey leagues for fun and fundraising for years.
"We're always looking for ways to do good while having fun, but also while connecting our Christian and non-Christian circles and this tournament was a way to do all of that," Pippus said.
He said it was an opportunity for those of different beliefs to work together for a cause they all could get behind. Pippus found an innovative way to illustrate the need.
"I had a bottle of filthy water and a bottle of clean water, and just said 'for $150 a family drinks the clean water instead of the filthy water. That's what you did today,"' he recalled. "A lot of them already knew about and really liked the project. It's a very tangible need for people to buy into."
Tournament raises $4,500
That tangible need is a BioSand Water Filter, plus health and hygiene training. A Canadian invention, BioSand filters are long-lasting household filters that remove up to 99 per cent of all contaminants, turning dirty water from ponds, rivers, and ditches into clear, drinkable water. So far, more than a million people have long-term safe water thanks to these filters and generous donations from Canadians like you.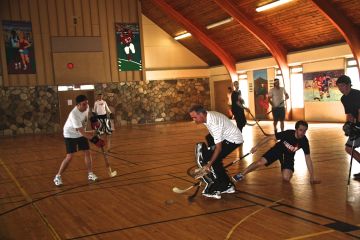 The four-team Hockey 4 Hope tournaments raised more than $4,500, which is enough to give 30 families safe, clean water.
In some places around the world there simply is no water available, so Samaritan's Purse works with local partners to drill wells or build rainwater reservoirs and storage tanks.
Samaritan's Purse also uses gifts from Canadians to provide millions of liters of clean water to refugees and disaster victims, whether by drilling wells, setting up emergency water filters, or trucking in life-saving water.
Samaritan's Purse water projects need the support of generous Canadians like you, who can provide clean water and share the hope of Jesus Christ: "Whoever drinks of the water that I shall give him will never thirst. But the water that I shall give him will become in him a fountain of water springing up into everlasting life" (John 4:14, NKJV).