Bob Barker, a member of the Samaritan's Purse Disaster Assistance Response Team to Serbia, spent a special day lending a helping hand to a widow whose home had flooded.
June, 2014—What I did today was a different way to spend my wedding anniversary! I went to Paracin in southern Serbia with a local church. Our team of eight worked in the flood-damaged home of Biljana Mihailovic, 67, who has been a widow since she was 39. After saving for a lifetime, Biljana bought her house five years ago.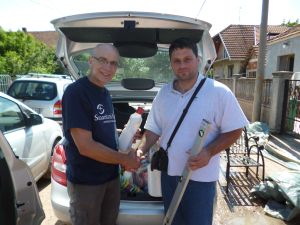 At about 4 pm on the day of the flood, Biljana  heard a noise outside her home.
"I looked out and saw water pouring through the gap in the garden fence," she said. "It started coming from all directions, through the front and the back. The yard was full in minutes."
Biljana climbed onto a garden bench, and then the fence to escape the floodwaters. She eventually  jumped into the water, which was up to her chest, and made her way onto the road where a truck picked her up. Relatives and neighbors provided her with dry clothing and accommodation for four nights before she could return home. Although the water is gone, the meter-high flood line is obvious inside and outside Biljana's home.
Some of our team members had previously worked on one of Biljana's rooms. The idea was to provide her with one dry, safe room so she could begin to rebuild her life. The team had cleared the room of wet clothing, and most of the wooden floor was already removed.
Today, we dismantled Biljana's wardrobe and removed the rest of the wooden floor. Then we dug out the wet sand floor to a depth of seven centimeters and replaced it with new concrete. Once the concrete dries, Biljana will have one room from which she can start to reorganize her home.
"It has re-motivated me to carry on," said a grateful Biljana. While the team was working on her house, she bought some paint and started to paint her small kitchen.
We gave her some provisions from Samaritan's Purse and presented her with a New Testament in Serbian. We were glad to be able to provide the tools for our work, including a wheel barrow, shovels, level, and concrete materials. The tools will be useful for further work over the coming weeks.
Before leaving, our team prayed with Biljana outside her home. And as for our local church partner, every encouragement was given to its faithful pastor to continue the work and take rest whenever he could. We wish them all God's blessing.