Nepalese are braving their first winter since the devastating earthquake last April.
There are too many mountaintops to count in Nepal—from the foothills to the highest Himalayas.
Flying over them, row after row, it was difficult to distinguish one from another.
Recently Samaritan's Purse flew a cargo jet loaded with winter clothing, blankets, hot water bottles, and solar lamps to Nepal for 5,000 households. We transported stoves to Nepal for more than 1,600 families. Meanwhile, we are also continuing other on-the-ground relief work, such as providing shelter materials and hygiene kits. In addition, we are continuing to work with a Christian partner to help Nepalese people in rural villages get medical aid in Kathmandu, Nepal's capital city.
Rushing aid to the unreached
Nepal Country Director Darren Tosh, who is Canadian, led the Samaritan's Purse Nepal team in the recent emergency distributions to 5,000 households in six locations, including Yarsa, over the course of five days. Staff teams camped in the villages for several days in advance to help organize logistics and ensure the supplies could get out immediately once they arrived. With snow on the ground and below freezing temperatures in these high-elevation communities, there was no time to waste.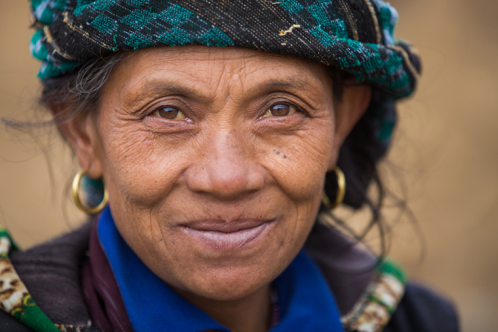 "These are areas that are going to get heavy amounts of snow, and without essential supplies, it's going to be very tough on communities, especially kids and the elderly. They're the first ones that are getting sick. These communities are actually losing some of their members because winter is coming, and they are dying because of exposure," Darren said.
"Being able to equip them with winter jackets, stoves, and blankets—these are small things that are going to make a huge difference in people's lives this winter."
Soft-spoken Kari Ghale, 24, was grateful to see people  who needed it the most get help. He sat on the grass with a few friends as the last group of villagers received their relief supplies.
"The people who got winter things today are the ones who are poor," he said. "So definitely they are happy and glad they got something warm to wear."
He explained how his community had received some relief goods in the past, but they had to walk farther to get them because Yarsa is so hard to reach. It meant a lot to him for these supplies to be flown in.
"It was good moment for me to see that helicopters brought the goods today. It was a beautiful sight to see that. It was the first time we saw goods being airlifted to reach us," he said. "Thank you for coming from all over the world to help people like us in the mountains."
"The earth is the Lord's and the fullness thereof, the world and those who dwell therein" (Psalm 24:1).