Hansel's story of safe water in El Salvador.
As clean, clear water pours over 12-year-old Hansel's hand, he cups it to his mouth and drinks deeply. This drink is so different from those he used to take.
Around him, Hansel's schoolmates await their turn at the tap that now runs to the new, large BioSand Water Filter rising above their small schoolyard in El Salvador. Life has changed so much.
A similar scene repeats when Hansel bikes home to his mom, dad, and little sister. Instead of consuming bitter, yellow water straight from their nearby well, Hansel now goes directly to the new, blue household BioSand Filter in the corner of their home.
"The filter water is fresh and does not make me sick," Hansel says as he draws a glass from the small spout. That sickness included terrible fever and gut-wrenching stomachaches. It came from the dangerous bacteria and parasites lurking inside their well. These unseen threats can be fatal, especially for children like Hansel and his younger sister.
The dangers are now stripped away by the powerful, natural technology inside the Canadian-designed BioSand Water Filters at their home and school. "We are so much happier with clean water," Hansel celebrates, as do many in his community who are also receiving a filter. You can learn how BioSand Filters work at SamaritansPurse.ca/filter.
A Great Need for Safe Water
Much work remains here in El Salvador. In a nation where more than 60 percent of the available water is polluted, and 80 percent of the country is under water stress, the needs are massive. Through your support, our partners are working hard to install nearly 600 household filters and another large school filter this year. The team is also planning to drill four deep wells in the new year. Your prayers and support make a critical difference for these families, one filter at a time.
Carmen, a teacher at Hansel's school, rejoices as each filter is given in Jesus' Name. She is not only a teacher, but also a local pastor. She is seeing how the BioSand Filters are opening doors to share the Gospel through a 13-week Biblical discipleship course our partners offer in communities where they work. The course is even being taught in Carmen's school and attended by students like Hansel.
"When I heard that my brothers were offering these Biblical teachings, my heart rejoiced," Carmen says. "In El Salvador, we have seen many difficult situations, and we need the youth and all people to listen to what the Word of God says."
A Timeless Message
It's the same Gospel message Jesus shared with the Samaritan woman at the well, over two thousand years ago, "If you knew the gift of God, and who it is who says to you, 'Give Me a drink,' you would have asked Him, and He would have given you living water" (John 4:10).
This is living water He offers today in El Salvador.
"The kids loved the Bible study," says principal Oriana at Hansel's school. "They learned so much about how God loves them."
God is at work through every BioSand Water Filter given in El Salvador. The need is great, but through your partnership, He is opening doors to reach this hurting country in His Name.
Will You Help Share the Gift of Safe Water Today?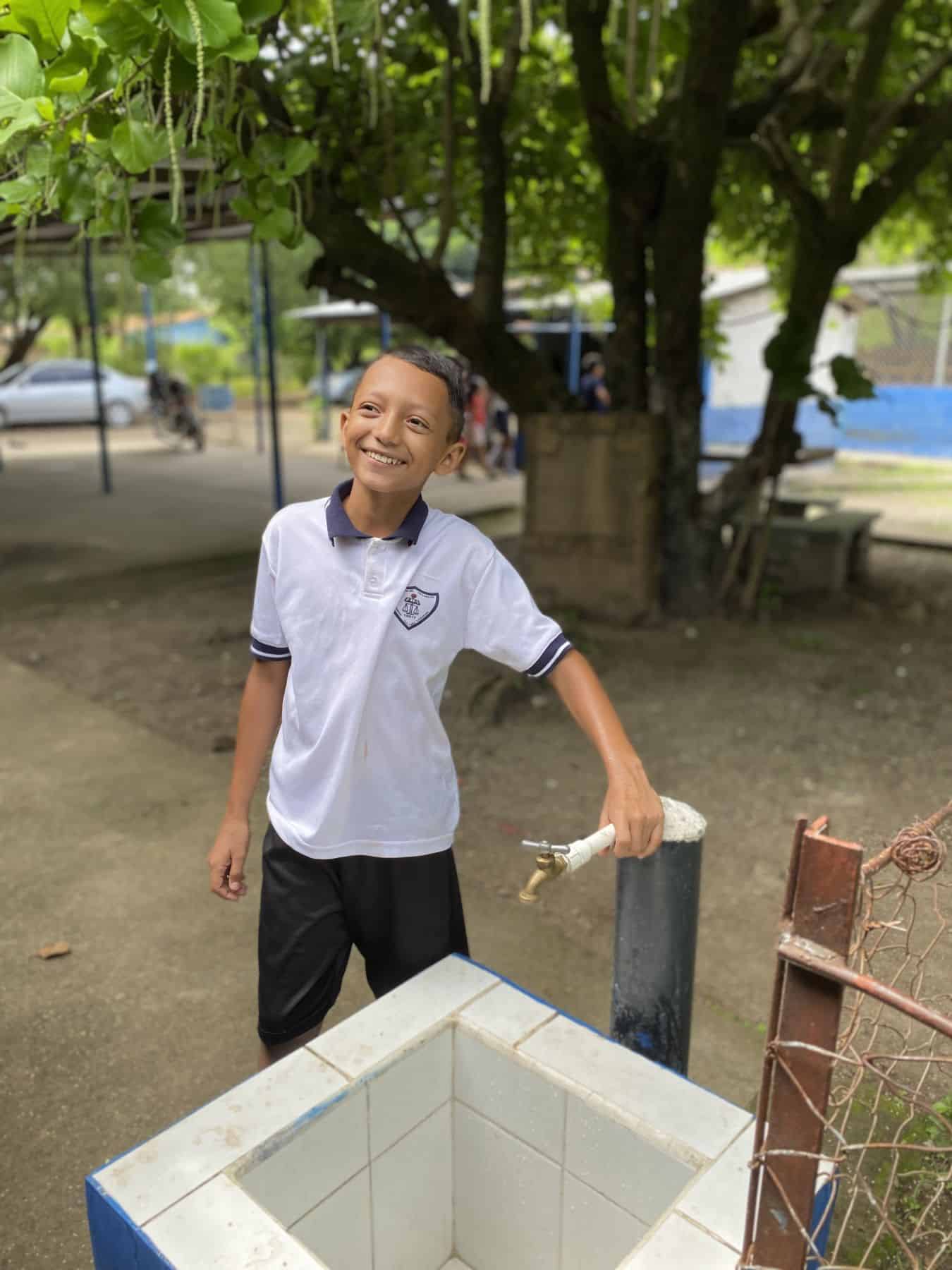 Bless a family like Hansel's with 1 household BioSand Water Filter for $150:
Share in the cost of 1 large, BioSand Filter at school for $50: