A former gang member in El Salvador finds peace in knowing Christ and is impacting others who are at-risk of falling through the cracks.
January, 2015—Gangs are tough. They are violent, and dangerous. Just ask the people of Mejicanos, a suburb of San Salvador, El Salvador. Gangs are known to recruit from local youth. Parents live with the fear that their teens will somehow end up involved in some form of illicit activity related to gangs. But the men and women  who have found a sense of belonging in these criminal groups all have a history. It's often a tragic one, linked to abuse, and rooted in violence.
One man knows this all too well. Jose lost his mother as a child, and by the time he was 16, he was actively involved in the drug trade from Colombia to the United States. He ended up in jail, condemned to a 31-year sentence. Within the confines of his penitentiary, he continued to be involved in criminal activity and 20 more years were added to his sentence. Jose was a powerful man, but one whose soul was rotting away.
However, through the witness of a group of Christians who shared the hope of Jesus with him, Jose came to realize his desperate need for redemption. Though he felt hopeless, as his sins were many and great, he accepted the forgiveness offered by Jesus, and began to follow Him, allowing his Savior to profoundly transform and bring healing to the darkness of his soul.
A new life
Thanks to a Samaritan's Purse program, Jose was able to finish his schooling and pursue a degree in prosthetics, while growing as a disciple of Jesus. God showed favor on his life. Because of good conduct, he was freed after serving 16 years and was the first prisoner to graduate with a university degree while serving his sentence. Jose used his   freedom to start a ministry dedicated to serving the poor by providing prosthetics to those in greatest need.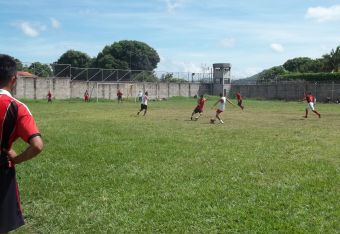 Now, his life has come full circle. With the support of Samaritan's Purse, he pours himself into the youth at risk in Mejicanos. He organizes soccer tournaments and shares the Gospel with young people so that they can find hope in Christ instead of turning to gangs. He also works with the prisoners in two jails, organizing soccer tournaments with the help of those who have come to faith in Christ. Project Arrow, as it has been named by Jose, also distributes Bibles and allows for Christian movies and other discipleship materials to be shared with prisoners and at-risk youth. He knows first-hand how a seemingly desperate life can be turned around. All it takes is people who are willing to share the redeeming love and transforming hope of Jesus Christ with the 'least of these.'
"I was in prison and you came to visit me." (Matthew 25:36, NIV)