Samaritan's Purse sends earthquake recovery kits to Nepal.
by Frank King, communications manager, Samaritan's Purse Canada
May, 2015—Samaritan's Purse's Calgary warehouse isn't  usually busy in May, but the occasion was special: packing recovery kits for desperate survivors of Nepal's recent earthquakes.
More than 150 members of Calgary's Nepalese community, along with members of the Calgary Police Service, came to the warehouse to hear the latest about Samaritan's Purse's efforts to provide physical and spiritual help to the people of Nepal.
Calgary MP Davinder Shory attended the event and, during his short speech, noted that "Samaritan's Purse is one of the organizations who are leaders in humanitarian work."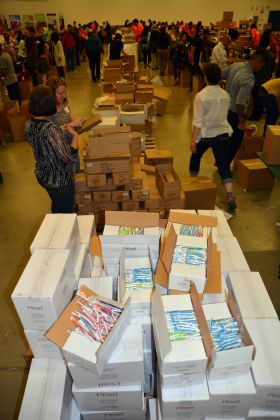 With the speeches done, everyone went to the warehouse (usually busy only during Operation Christmas Child shoebox processing season in November and December) to get their assignments for the night.
Everything went amazingly smoothly as people went up and down two assembly lines, filling recovery kits with household utensils, basic hygiene items, school supplies and more. While that was going on, other volunteers taped boxes together, moved packed kits to a tractor trailer and broke up dozens of empty boxes that held supplies for the kits.
Meanwhile, media from the Calgary Herald newspaper, CBC Calgary, and QR 77 talk radio interviewed Samaritan's Purse staffers and a couple who have relatives in Nepal.
In the end, 1,800 recovery kits were packed and are on their way to Nepal. Sent from Canada with love. There are no plans to do another recovery kit event at this time.