Dr. Jim Wiedrick with his family have travelled to Ghana as part of a world medical mission with Samaritan's Purse.
Dr. Jim Wiedrick with his wife Teresa and children Hannah (13), Madelyn (11), Rachel (9), Zachary (5) Wiedrick have travelled to Ghana as part of a world medical mission with Samaritan's Purse.
Written by Tamara Hynd
Published by Nelson Star on Friday, October 24, 2014
A Nelson family has packed up and gone on a month long journey to Ghana, Africa as part of Samaritan's Purse Canada's world medical mission.
Dr. Jim Wiedrick has his wife, Teresa, and their four children by his side as he volunteers at a baptist medical centre for three weeks.
Wiedrick, who studied family medicine and is now a GP anaesthetist, is relieving the long term physicians at the mission hospital which is the medical centre for the area. They provide a clinic three days per week and two days are surgical.
Wiedrick expects to see Third World troubles. He took part in another medical volunteer mission, in north-western Kenya, in 2012.
"My impression from other stories is that many of the troubles are the same, other than snake bites," he said.
"Patients also take longer, than in Canada, to come in for help as they wait, hoping the problem or illness will resolve itself."
That delay can cause a "higher degree of significance as the problem has been brewing for a while."
That includes maternity care for expectant mothers.
"If their delivery is not proceeding at home with a local midwife or experienced female in the community, women will eventually come to the hospital after a significant amount of time has passed and an emergency c-section is needed.
"Here in maternity care pregnant women get tested for group B strep and can receive antibiotics during labour which prevents sepsis (blood infection) in newborns.
Wiedrick explained that some parents often bring in a newborn child that looks septic and near death.
"In six weeks, I saw a dozen kids who would have died or did die. This is extremely rare in Canada."
Other maladies include poisonous snake bites (which patients need anti-venom), malaria, HIV and tuberculosis.
There are trauma injuries as well.
"There is less focus on basic safety there, so you'll see four people on one motorcycle so what would be one broken leg is now four people with broken legs when there is an accident."
Wiedrick brought basic medical supplies, like gloves, sutures, and foley catheters.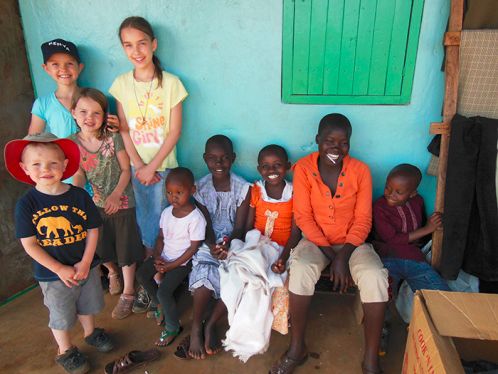 "In Kenya, there were not enough gloves to change every time, so they disinfect rather than dispose," which poses its own risks.
But why does he volunteer abroad with the family?
"It's a great experience. It's an adventure, a way of giving back, and take over medical supplies, and fill in for the three to four long term doctors for respite or a vacation."
His wife Teresa is a writer and home educator who will use the blog, followthewiedricks.wordpress.com to share their journey as she did for their 2012 trip.
"She is really intrigued by all the human interest stories and the kids are interested in the kids in the pediatric ward."
There is an orphanage nearby that they will visit which he said is a good lesson in compassion for his children. His kids also get to know some of the patients who were waiting to be released. In Kenya, some patients spend extra time in the hospital, not because of illness, but because their family needs time to settle the medical bills.
"Everyone is treated but must pay before they leave. In the local culture it loans for accountability and keeps the family structure, so who was I to criticize."
In Kenya it was an opportunity for his kids to come to work with him which is not possible in Canada due to privacy laws.
"They get to see what [the doctors] do and that makes them feel they are a part of it; it opens their eyes."
The family will stay in a compound where administrators and physicians live in small modest houses that are "adequate with the basics."
Treating the water will be an everyday chore as it was in Kenya. Wiedrick explained water treatment is a three part process: boil, filter and fill plastic bottles with the water, then put them up on the roof top for the day so the ultra violet rays of sun kills the protozoa and bacteria (cholera).
"The kids know that they don't fool around when we say "wash your hands please." They are old enough now and they are just as motivated as we are. You can't prevent everything all the time."
There are many reasons that draw Jim and his family to join the group of medical volunteers overseas.
"For me, it's the interaction with people who have medical experience that I won't have even touched and the physicians who have that experience. You're hands on for people all the time, rather than sitting in the office trying to figure out what's wrong, doing something for sick people. They are sick for reasons that are profound. Sometimes it's heart-breaking. With sad outcomes, you think if only they had access sooner to this help. But for every unfortunate story, there are three or four good ones."
And he sees a lot of need.
"You can make a real impact. I'm blessed to make a good living here and it's a good way to give back."