Three Nicaraguan mothers share similar, heart-wrenching stories. All were fearful for their children's health because they had no choice but to drink dirty water contaminated with dreadful bacteria, parasites, and more. As a result, dangerous kidney infections—which can become life-threatening without treatment, which includes drinking plenty of clean water—afflicted their families. Here are their stories.
January, 2015—Today, Urania Martinez is jubilant at the sight of her two-year-old daughter Mari ­a running around their backyard. She's spent too many days observing her precious daughter lying sick in bed.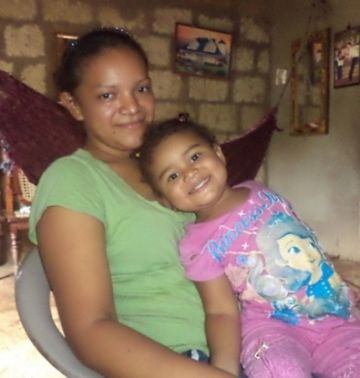 At just four months old, Mari ­a was diagnosed with a terrible kidney infection. "The doctor prescribed her strong medicines to fight the infection, but it was so expensive that it was impossible to buy," says Urania. The doctor also advised Urania to start buying purified water, which she simply couldn't afford.
Thankfully, because of donations from generous Canadians, Samaritan's Purse installed a BioSand Water Filter at Urania's home. Since then, Maria's infection has subsided and her mother can rejoice at having a healthy little girl with a promising future.
"You installed the filter, and starting that month, the situation changed," said Urania. "I asked God a lot for her health and He answered. I'm happy because she is happy!"
Nine-month-old Allancito, or Little Allan as his mother Liliana Matamoros lovingly calls him, also contracted a serious kidney infection at a tender age. Liliana cried as she recounted those difficult days. Allancito was just over a month old when he fell ill.
But after receiving a BioSand Water Filter from Samaritan's Purse, Liliana started giving her child clean drinking water. "I continued giving him this water and will not stop because that water is what is helping my dear son," she says.
"I feel in my heart the need first to give thanks to my God and then to the project," she continues. "You have given us this opportunity to have good health through the filter."
As for Maria Niño, a severe kidney infection kept the newlywed "prostrate" in bed, as she described it, for several months. Then she discovered she was pregnant.
"Those were terrible moments," she says. "Just imagine—pregnant, sick, bedridden." Mari ­a was also filled with fear that the infection might harm her unborn child. "The doctor who examined me told me to drink plenty of water to help clean my kidneys. He also prescribed antibiotics, which I suspended as soon as I found out that I was pregnant."
At that time, by the grace of God, Samaritan's Purse was building and installing BioSand Water Filters in Mari ­a's community. "We had been told that the water from that filter was the best thing to heal me, so we were waiting for it very anxiously," says Mari ­a.
A filter was installed at Maria's house and the clean water it produced worked wonders for her health. One healthy baby boy and three tests later, she is well again!
"I thank God for my healing and that my child is out of danger," she says.
Thousands installed every year
Thousands of families around the world benefit every year from life-saving BioSand Water Filters as a result of your donations. But our water program reaches beyond the filter. In fact, included in the cost of each filter is essential health and hygiene training, long-term monitoring of the filters' effectiveness, and whenever possible, latrine construction.
These are all necessary in order to help families maintain good health for years to come. Samaritan's Purse also uses your donations to build large filters for schools, drill wells, improve rain reservoirs, and construct water storage tanks for communities.
With your faithful financial and prayer support, we can continue reaching out to families not only in Nicaragua, but also in places like Cambodia, Ethiopia, Kenya, Nepal, Uganda, and El Salvador.We also use our water projects as a way to share the Gospel with unbelievers and to encourage those who are already following Jesus Christ. Many families in Nicaragua and around the world begin discipleship classes and even start churches in their communities as a result. May you be blessed by the kingdom impact your generosity can make.