A BioSand Water Filter from Samaritan's Purse donors has transformed the lives of Christine and her family, including nine children. They no longer risk being among the more than 800,000 people who die each year from diarrheal diseases caused by dirty water and poor sanitation.
Christine Odyek doesn't even like to reflect on the days before she, her husband, and their nine children were trying to survive without a BioSand Filter supplied by Samaritan's Purse.
"Me and my entire family were not doing well," she recalled from her small village in the Oyam region of north-central Uganda.
"We were drinking from the well without the water filter, and we were getting diseases. Diarrhea was rampant. The children would be home and not going to school, and we could not cultivate our fields."
Since receiving her BioSand Filter in November 2016, through a partnership in which she and her husband helped build it, Christine says: "These days, we see a very big improvement. Our children are going to school. Our children are no longer falling sick. And our family has a lot of food crops, because we are able to dig and grow our crops . . ."
"I want to thank God for His goodness, and secondly, I want to thank Samaritan's Purse for the good works they have done in this village."
BioSand Filters transform even the most coffee-colored water into safe, drinkable water in only seconds. The filters, designed by retired University of Calgary professor David Manz, have been tested and proven effective by various experts including the World Health Organization. The filters have no moving parts to wear out, and operate for decades with little or no maintenance.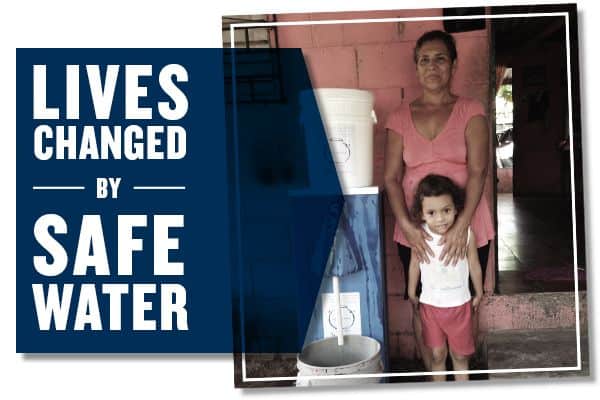 Dour Eddie, manager of Samaritan's Purse Canada's Water, Sanitation, and Hygiene (WASH) program in the Oyam region, said "diarrhea and typhoid are killing people in this community . . . the water quality is very poor, and exacerbated by open defecation on the ground near people's homes."
Using donations from generous Canadians, we have partnered since 2012 with several Oyam-area communities to create 4,230 hand-dug wells, install 4,200 water filters, and provide important health and hygiene training. At least 30,000 people, including Christine and her family.
Dour and his Samaritan's Purse colleagues learned during the first phase that it was relatively easy to convince Ugandans of the value of the BioSand Filters. What proved more challenging was convincing people to stop defecating in the open, and instead build and use latrines, and regularly wash their hands.
That's why the program's second phase includes health and hygiene training at not only the household level (when it is aimed mainly at adults) but also in area schools. That strategy, Dour says, results in the parents and children each reminding the other of the importance of proper hygiene and sanitation.
"We must avoid contaminated water from not handwashing," he warned.
Dour noted that Christine and her family are part of a model community—meaning the village is setting an example for others in the area by how consistently they are implementing all the key elements of Samaritan's Purse's Water, Sanitation and Health program, including regular handwashing.
Christine thanks Canadians for their support of our water projects, but says there are still other people in her community and around the world who urgently need BioSand Filters and all that comes with them, "so I hope people in Canada will continue to support this program."
As a Christian, she knows about the "Living Water" of Jesus Christ, and is thankful very His presence in her life. But Christine says she and her community also need conventional water, and water that is safe: "God said we human beings should care for our bodies, and that is why we need clean water."
Please partner with us through your donations and prayers in continuing to provide safe water, and the message of the Living Water, to people throughout the developing world who urgently need both.