"We love our Canadians; they accept us for who we are and love us for who we are."
When Hurricane Irma roared through Florida last August, it didn't come near the town of Weeki Wachee, where Amy and Mike Jarrett live. But as they watched TV reports showing the devastating damage it did in Naples, about four hours' drive away, the Jarretts were moved to help.
Mike, 40, found out Samaritan's Purse had set up one of its Canadian Disaster Relief Unit tractor trailers in Naples and was recruiting, training, equipping, and deploying volunteers to clean up damaged homes.
The Jarretts signed up to help for three days but, inspired by the work and impressed with the Canadian team running the operation, they ended up staying for 10 days. They returned home for two weeks, then came back to volunteer for another 10 days.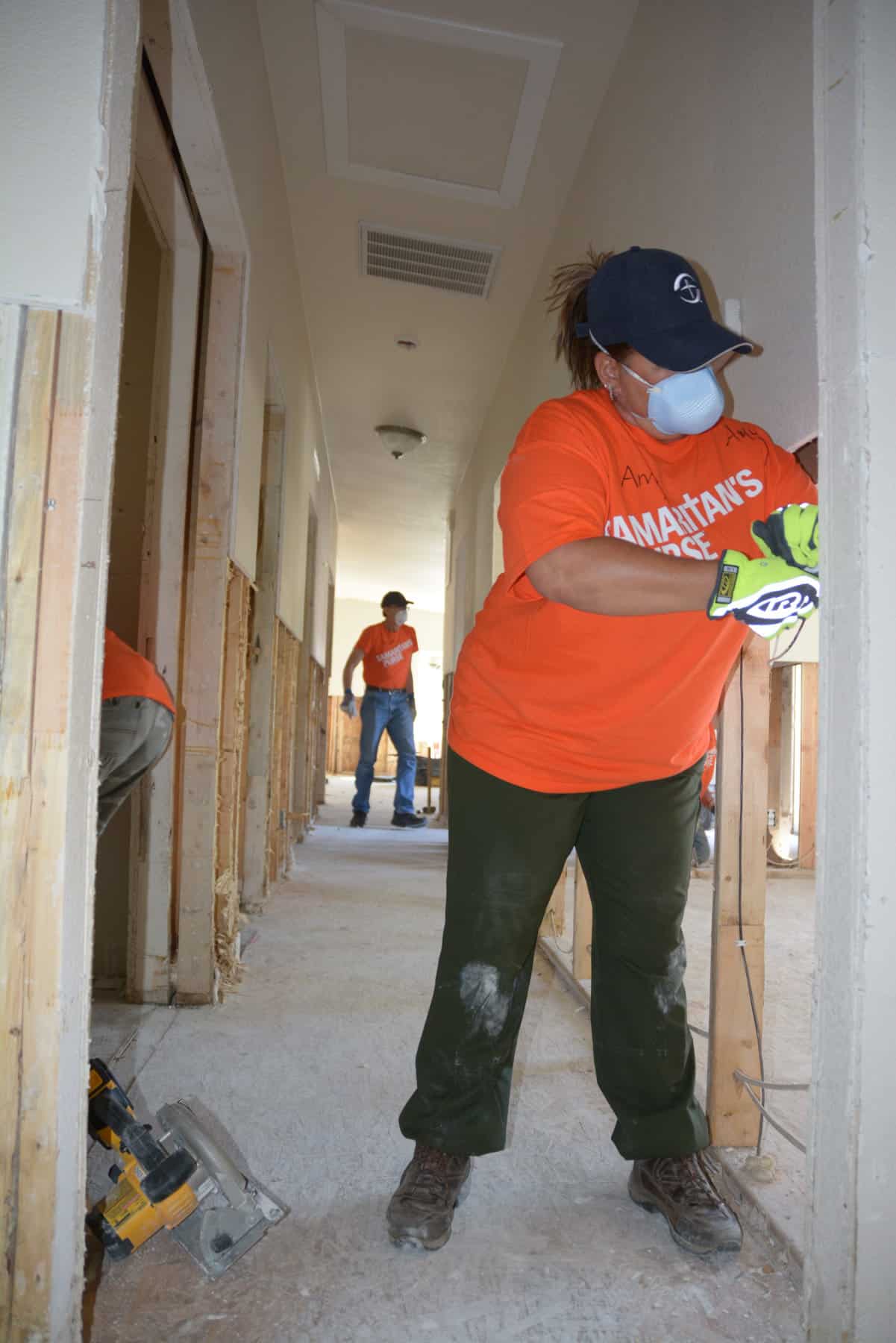 "I told my husband when we first signed up that this was either going to be the best thing we've ever done or it's going to be a case of 'what were we thinking?'" recalled Amy, 43. "It was the best thing we've ever done in our lives."
Before connecting with Samaritan's Purse, the Jarretts were Christians, but had stopped attending church after experiencing a traumatic church split. All that changed as they volunteered with the Canadian team in Florida.
"I always thought I had to better myself in order to have God accept me and I found out (from serving with Samaritan's Purse) that it's just the opposite," Amy explained. As she and Mike wrapped up their Florida volunteer work, they decided to find and church and start attending every week.
In addition, their positive experience with our Canadian disaster relief team inspired Amy to fly to Calgary in April to receive disaster relief training at Samaritan's Purse's Canadian headquarters.
North to British Columbia
When the Jarrets learned that Samaritan's Purse was responding to flooding in May that damaged hundreds of homes Grand Forks, B.C., their positive relationship with our Canadian disaster relief staffers moved their hearts from empathy to action. They flew to Spokane using their own frequent-flyer points, then a member of our team drove them to Grand Forks.
After arriving, they helped provide physical, spiritual, and emotional support in Jesus' Name to flood victims. Many of those victims were seniors with chronic health issues and with no flood insurance because insurers wouldn't cover Grand Forks homes built on flood plains.
"We had to return the favor," Amy said, explaining why she spent almost a month in the town. "We love our Canadians; they accept us for who we are and love us for who we are."
Thanks to her Canadian training and previous disaster relief experience, Amy was put in charge of a group of volunteers. She blessed people with her joyous personality, giving out hugs regularly to team members and home owners.
"The connection I made with the Samaritan's Purse disaster relief team is just special; it changed my life," she said. "It helped me learn to express myself and know it's OK to love openly."
Based on her experiences, Amy is an enthusiastic supporter of the work done by Samaritan's Purse.
"Through my eyes, this is the only organization we've found that does what it says it's going to do," she said. "Donations go where they need to go and I've seen it in action myself. This is a well-oiled machine."
Please partner with us through your donations and prayers. Together we can show weary, hurting people the love of Christ in action. "The Lord is good, a stronghold in the day of trouble" (Nahum 1:7, ESV).