Samaritan's Purse staff often encounter those who demonstrate Christ's mercy in ways that make them modern-day Good Samaritans. The following story is an exceptional example and was shared by the wife of one of our ministry partners in Nepal, who found herself caring for a mother with HIV/AIDS during her dying days.
July, 2014—I met Kalpana (name changed) around five years ago. She was the leader of several women who were prostitutes and refused to let us visit them. She even beat one of my staff members for talking to the other girls. She never listened to us.
One day we were on a public bus, when suddenly she came on and said to all the passengers: "I am HIV-infected. Give me money. If not, I will bite all of you and make you infected too!" Everyone was scared and gave her money.
Five years later, we found Kalpana in a very critical and desperate situation. She couldnt walk or move at all. She was on the street, under a roof. Looking at her, it seemed that she was near death; her body was skeletal, her legs were swollen. There was no hope at all.
While we were serving her, cleaning her up, she said: "I don't want to stay here— I am raped every night."
She was in great pain. She used to shout for help, but no one was there for her at night. What humility… she was suffering but no one dared go near her. They just threw some food to her from a distance.
Problems at the hospital
We took her to a hospital, but there were problems there, too. Doctors showed no interest in admitting her. She had no one to look after her, so they could not take her
Finally, we signed the papers saying we would take care of her. We contacted several organizations who claimed they could help, but Kalpana's situation was so desperate, even they refused. We were so frustrated, and I found myself questioning in my own mind: "Is caring and serving people or children in need like selecting tomatoes or potatoes—choosing the 'good' or 'normal' ones?" When I find such people, God speaks to me through Matthew 25: "I was hungry, you gave me food, I was thirsty and you gave me drink, I was a stranger and you took me in, I was naked, you clothed me, I was sick, you visited me, and I was in prison, you came to see me."
The doctors did all the tests and discovered that Kalpana was indeed HIV-infected and had AIDS. We took care of her day and night, because she didn't have anyone. She could not stand or go to the toilet. I thank God and give Him honor that He has given His heart to my staff. We took  turns looking after her. All of us became sick from being at the hospital all the time. One of my staff was even admitted to the hospital. But Kalpana was improving. The doctors were treating her. Her CD4 count was around 500, but the problem in her stomach did not improve. We mobilized Prayer warriors—and then found out she had a daughter somewhere in Kathmandu.
Our prayer was that Kalpana could see her daughter in the last stage of her life. According to Kalpana, they had  lived in a rented room when her daughter was around 11 years old but because she abandoned the girl and didn't care for her, the neighbor took her. Since then, Kalpana hadn't spoken with her daughter.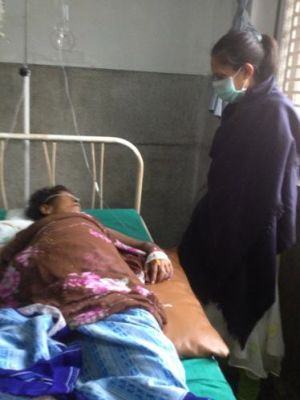 Finally, with a lot of efforts and prayer, we found the girl. She was living as a maid in a house in Kathmandu and studying in Grade 10. She is 16 now. When we informed her about her mom, she did not react very well, but came to see her at the hospital. Kalpana's condition had become so serious that she was unconscious. I asked Kalpana's daughter to call her Mom. The word did not come out  of her mouth. It seemed that she had hatred toward her mother. Later she told me, "When I was very young, she never cared for me." She remembered that her mom used to bring her clients to their room and she had to go out or hide. She used to be hungry and no one was there to look after her. Kalpana was drunk all the time.
She added, "I was just 11, but going to school. I started to tell her not to do this, but she used to scold me very badly, with very bad words. Then a neighbor took me as a maid. I started to get food, but my life did not go well. The lady was abusive; she used to beat me. One of my school friends told her mother about me, so I was taken and I am still with her and am fine now."
She said she saw Kalpana only once since then, but her mother was fighting with somebody at the time, and speaking very bad words.
Her daughter's life
She had a difficult time entering school, because the school required birth registration. She didn't have one. Later, her friends decided to present her story in one of the school's programs. The drama opened the eyes of her principal and others, and convinced them to let her be in the school without birth registration and without her father's name. She said, "I think my mother also does not know who my father is." The school gave her a scholarship and she is studying to this day.
She stayed at the hospital, looking at Kalpana. Slowly she touched her. She saw her mom's skeletal body, her swollen legs, and her enlarged stomach. She knew that she was HIV-infected and had AIDS.
On the second day, I called to Kalpana, saying her daughter has come but she did not open her eyes. I called many times, but there was no reaction. On the third day, I counseled Kalpana's daughter again to call  her Mom, and finally she said, "Mommy I am here, please open your eyes." She said it a few times, and surprisingly Kalpana opened her eyes and saw her daughter. Tears flowed from Kalpana's eyes but she could not speak. A few minutes later, she fell asleep forever. It seemed that Kalpana was waiting for her daughter to call her Mommy so she could ask forgiveness.
The tears rolling from Kalpana's eyes seemed to indicate that she repented and asked forgiveness. Her daughter held Kalpana's hands, so that she might know that her daughter forgave her. It was around 3:30 pm when she went to her eternal home after 21 days in the hospital.
It was  a dreadful death, but we praise God that He is so merciful and that He loved her so much. He welcomed her into his house in the final stage of her life.
We thank every one of you who have helped and prayed for us and for Kalpana as well. We highly appreciate your encouragement and solidarity. Though it was difficult, God gave us the heart to serve His beloved daughter.
Like Kalpana, there are around 28,000 female sex workers in Nepal with an estimated HIV prevalence of 1.69 percent. The HIV infection rate among street-based sex workers in the Kathmandu Valley is 4.2 percent. UNAIDS estimates from 2007 indicate that approximately 75,000 people in Nepal are HIV-positive, including all age groups. Between 5,000 and 15,000 women and girls are trafficked annually to India for the purposes of commercial sexual exploitation. (Statistic source: Human Trafficking Assessment Tool Report for Nepal by American Bar Association July 2011)
Their only hope is with Jesus Christ, who can save them for eternity. We believe we will meet Kalpana again in our Father's house.