Pean and her daughters were sick with regular bouts of diarrhea and fevers until they helped construct their new BioSand Water Filter, which provides them with clean water.
March, 2013—She was invited by the village leader several months ago to listen to a presentation by an organization that was helping families to access safe drinking water. She went because the water quality from the shallow well outside of her home has been poor since a new road was built nearby six years ago. She has been boiling water in the meantime, but she and her daughters have still been getting sick with regular bouts of diarrhea and fevers.
She decided to sign up to receive a BioSand Water Filter, and was assigned a day to help construct what would be her family's filter.
"Oh it was hard!" said Pean. "I didn't know what to do, so they had to show me how to do all the steps. I've never built anything like this before."
It has been four months since  the filter was installed at her home, and her family has been enjoying using it for everything: drinking, cooking, and bathing.
"After bathing, I notice my hair is softer, my skin feels smoother—even our clothes look brighter," she said.
Pean's daughters are feeling better too in the short time they've been using their filter.
"I'm happy to see this, because every time they used to get sick, I would worry," said Pean.
"If it was a major sickness, they would need to go to the hospital and we don't have enough money for that. They used to get sick often, but now they are getting sick less. We don't have an easy life, but so far this filter has shown already to be helping us with our health, and this means I have one less thing to worry about."
"I'm so thankful to have received this filter," she continued. "This has been a big help for our family."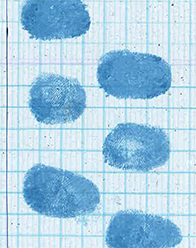 There are over 80,000 people waiting for a BioSand Water Filter of their own. Many who are unable to write their name sign instead with a thumbprint. They are doing all they can to protect their family from disease. Each thumbprint represents another family that has requested a filter.