Lessons in Living Water
Sharing Jesus Through Safe Water in Cambodia
Safe Water and New Life at Cambodian Schools
PHIRUM'S AND PISEY'S LIVES ARE FOREVER CHANGED
Half a dozen children stand side by side at their school's newly built handwashing station. The cheerful structure—painted a sunny yellow—is outfitted with faucets, bars of soap, mirrors, and towels.
The boys and girls scrub and then rinse their hands. As the sudsy water drains, it washes away germs that might have made them seriously sick. But those drowned microbes are just a few of the bacteria that 12-year-old Phirum* has battled.His family used to rely on a contaminated pond for drinking water every time the dry season swept across rural Cambodia. The water teemed with disease-causing bacteria and parasites. Still, Phirum had to fill his bottle and bring it to class.
"Phirum frequently missed school because he regularly contracted waterborne illnesses such as diarrhea and typhoid fever," one of our team members shared.
He isn't alone. In Cambodia's countryside, dangerous water robs countless children of health and keeps them from education. Families often spend their meager resources on costly medical bills—all because they don't have safe drinking water. That's why the life-giving, clean water you give in this part of the world is critical.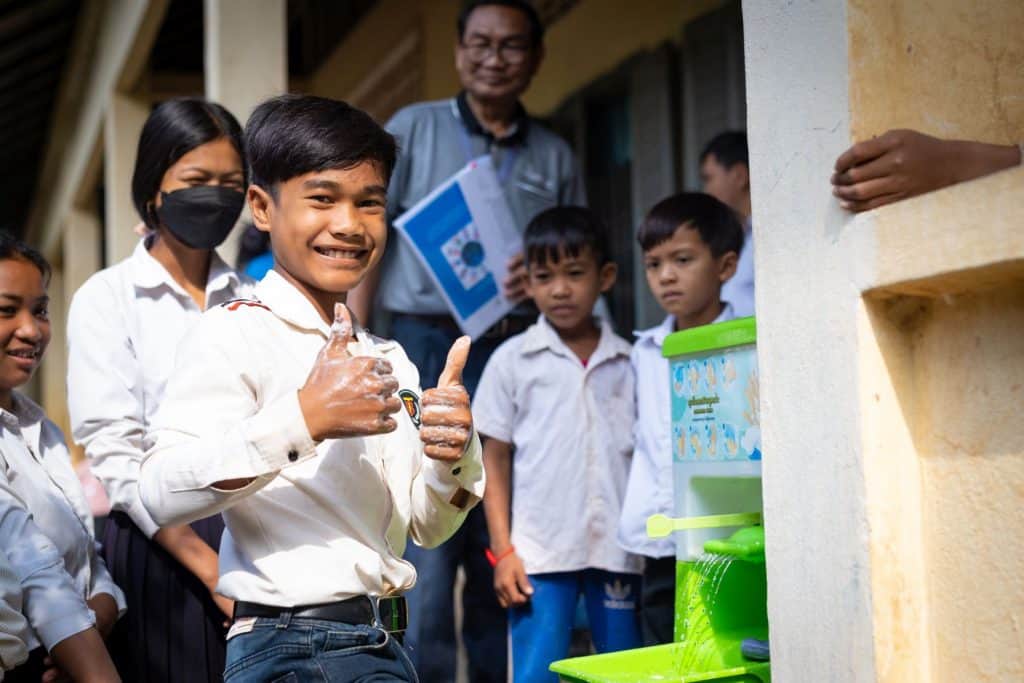 At Phirum's school, our team built a large BioSand Water Filter. It can provide safe water for 225 people daily, including staff, students, and their families. The team also constructed new latrines, complete with handwashing stations. Having clean and secure latrines is crucial in helping students feel safe and stay in school, especially for girls becoming young women.
"Now, Phirum and his classmates are free to continue their studies without the constant fear of falling sick and missing significant portions of the academic year," said our local staff. "As a result, Phirum has grown to become a remarkable student and dreams of becoming a successful entrepreneur when he grows up."
But Phirum's growth has not stopped there.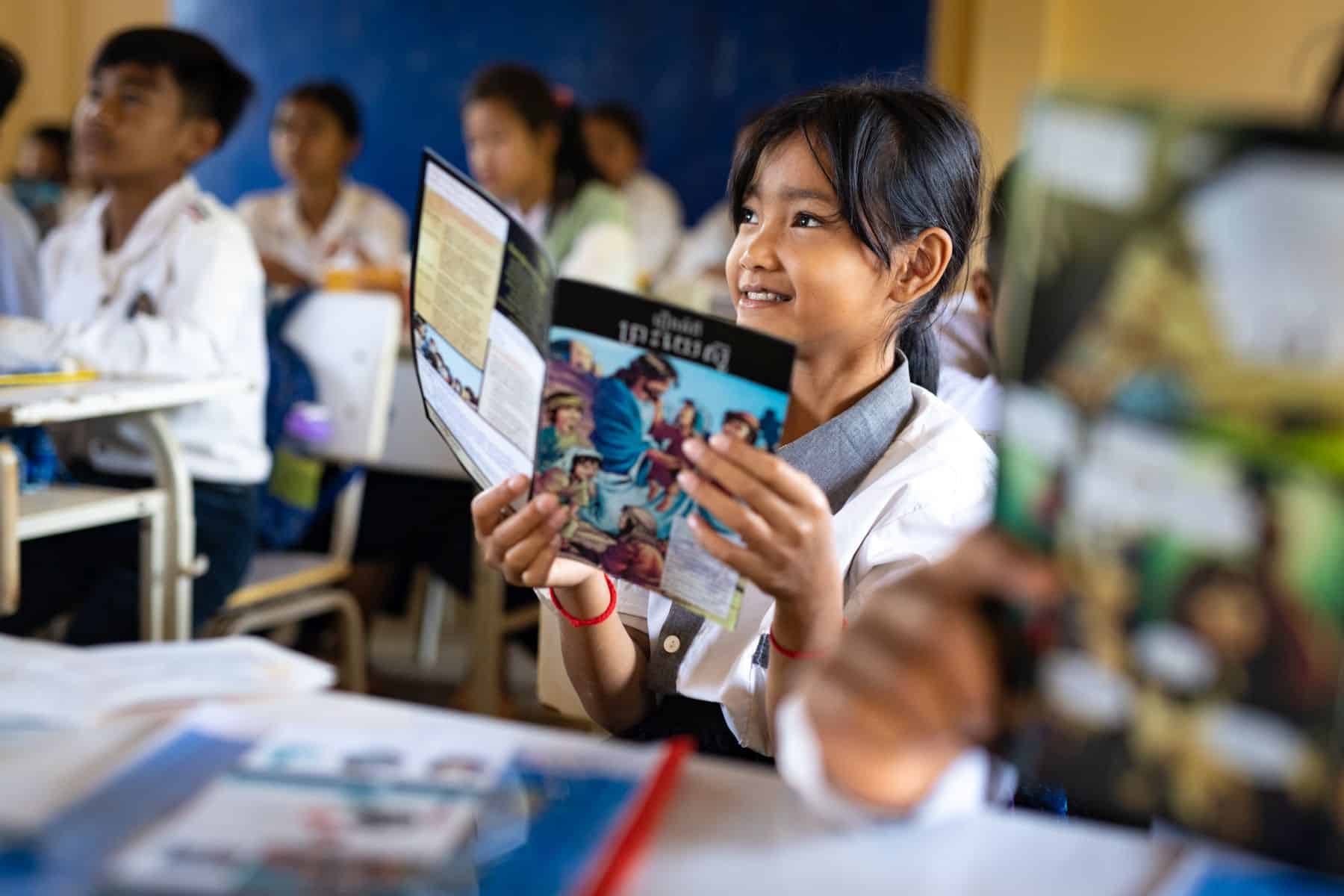 LIFE-GIVING LESSONS: IN ADDITION TO LARGE BIOSAND WATER FILTERS, HYGIENE LESSONS ARE OPENING THE DOOR TO SHARE THE GOSPEL WITH STUDENTS ACROSS CAMBODIA.
With water being an important symbol in Scripture, our team and church partners are able to share Biblical stories and the Gospel message through hygiene lessons and conversations in the schools.
Our project staff shared the Good News with Phirum, and he asked Christ into his heart. His new faith continues to grow at a Bible study group started by our team.
It's this life-changing combination of safe water and "living water" (John 7:38) that has given 12-year-old Pisey* new hope, too. "I am so much happier and healthier nowadays," she shared.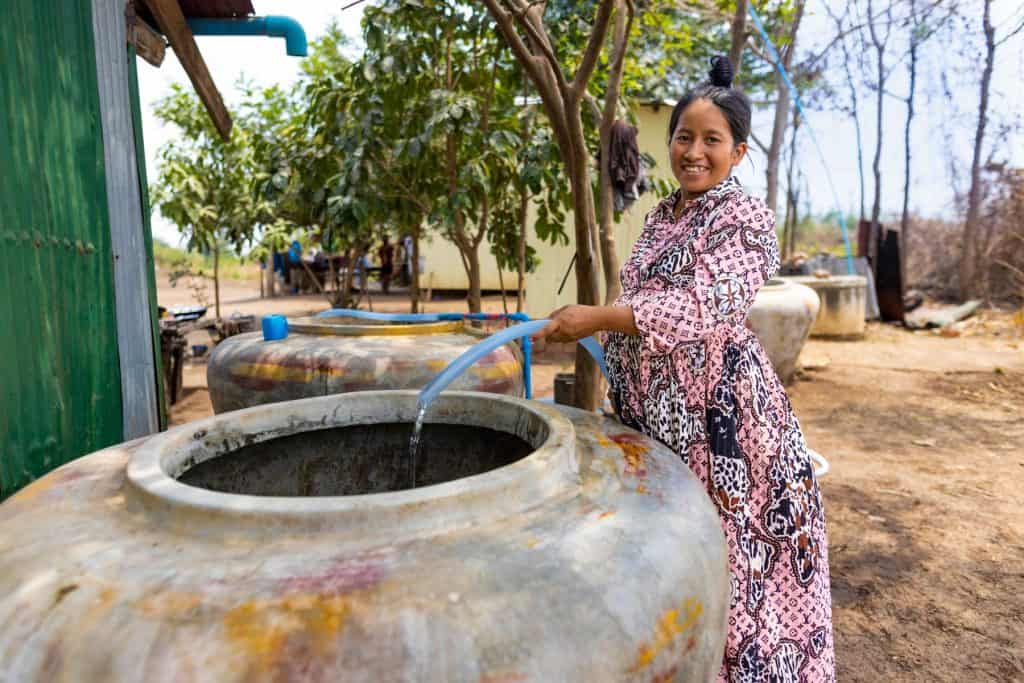 Pisey also lives in remote Cambodia and knows firsthand how stomach illness is ruinous. Once, when she was particularly sick, her family paid a burdensome fee for medical care. Her parents had already migrated to Thailand for work because it was the only way to meet the basic needs of their four daughters—never mind extra expenses. Pisey missed so many classes that her grades suffered.
But through partners like you, her school has a new well and large filter. Pisey now loves drinking safe, filtered water. She and her grandmother also received a household water filter.
Best of all, Pisey encountered Jesus Christ. She put her trust in Him and meets with other believers every week for English lessons and fellowship.
"Though the village does not yet have a church, Pisey and other believers living there will keep learning about Jesus through Christian groups, Scripture reading, and personal prayer," our staff rejoiced.
We, too, praise God! He is using your partnership to fight one of the leading causes of death in children worldwide—and to reach thousands of young hearts with the hope of the Gospel.